One-on-one with Fabio Ferioli, Chief Financial Officer at Smartpricing
In this article, we introduce you to Fabio Ferioli, Chief Financial Officer at Smartpricing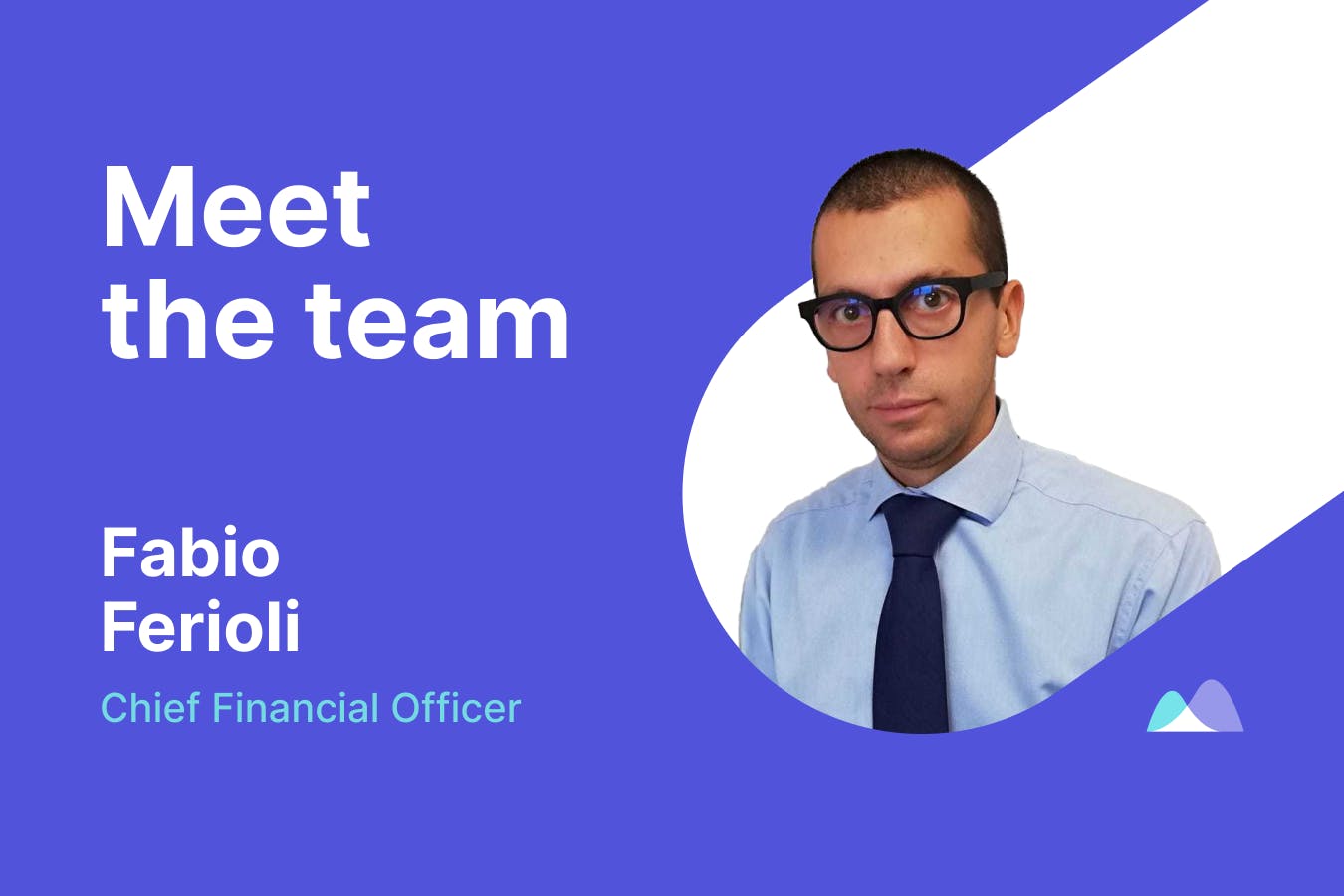 How long have you been working at Smartpricing?
I started working at Smartpricing in August 2022.
What team are you on (and what do you do specifically) and how does a typical day unfold for you?
Team: Finance, reporting directly to the CEO, consisting of myself and 2 other people. 
I deal with all things administration, finance and all-around controlling, relations with current and future investors and financial institutions, and relations with the CEO for future plans. Billing receivable and payable, ordinary accounting, Finance, Controlling (drafting and preparing budgets and financial plans) monitoring and updating these. 
Typical day: Half hour to check emails and priorities for the day, having another look at the calendar and resetting the schedule. Then it's off to the start, and this depends on the period, e.g., at the moment, my day is taken up almost completely by the business plan, board preparation, and pitches for new investors, and I collaborate daily with the Head of Administration, in case of problems or critical issues, also from a software point of view (e.g., technical problems of invoice issuance, and then corrective issues, also with other teams). 
I also do business plan and pitch preparation for investors and future boards, having only been here a short time we are working on new processes and starting from scratch.
What skills would you say are necessary to do your job?
Some prior experience behind you is necessary, because you will bring more knowledge with you, and it will help you avoid mistakes. It also helps you to handle pressure spikes, stress, and to be more clear-headed at times with overwork, and to prioritize the really important things. This experience allows you to better manage everything. 
Certainly precision and passion are key; you "play" with numbers, and these must be real, and grounded in solid foundations. It is about playing with processes and numbers in an engineering way, it is about playing rigorously. It takes mental order to best handle ever-increasing numbers.
How does the culture of Smartpricing support you in doing your best?
You are granted wide spaces, a giant green field, no one will tell you not to do something. Right away, I have had the opportunity to voice my opinions and give my input and change processes. No one, starting from CEO, will put up stakes and block you out of the gate. Daily enthusiasm and you really feel you are part of a process of innovation, change, and a dynamic environment. Constructive change is seen in a very positive way and has no barrier to entry, only possible changes due to the shared team reasoning. No one stops you from pushing innovation and that's amazing, the fact that you can put your own spin on things is really great. All the departments have open doors, there is transparency and willingness to make things happen. With all people, starting with the CEO that I deal with on a daily basis, you exchange clear communications where the company culture and a long-term vision with challenging goals shines through.
And the fact that you have a chance to put your own stamp on things is an opportunity for both experienced and more junior people. You roll up your sleeves and have an opportunity to contribute on a daily basis.
When people ask you what it is like to work at Smartpricing, what do you say?
Buzzing, a company that allows you to wake up in the morning and say I have my day full of things to do. Fun, absolutely good team, and all the people I deal with show me that they believe in the project and are not just there to "bring home the paycheck at the end of the month." Dynamic environment, challenging but concrete project, because the founders are 3 extraordinary people, with different nuances, but down-to-earth visionaries despite being young.
The first person I met was Luca, and it was love at first sight. If we had not met, now a month in, I would have been looking for a person like him.
What do you like most about Smartpricing? / What surprised you most about Smartpricing?
2 things: I liked the founders and the team, which is made up of pleasant and competent people, and always with focus on humanity. People treated as resources, not just employees or colleagues.
Another perception I have is that there is a fresh and good vibe with all the difficulties that can occur because of the relative distance between teams at the office and teams working remotely.
What does Smartpricing have that other companies don't?
Ambition and the will to make things happen, while still trying to keep our feet on the ground. We don't want to do big things just for the sake of it; there is a desire and ambition to take this project to the top of the mountain. To take small steps you have to think big and do big things. If you don't think big, you don't even take small steps.
This company has a culture and way of making daily operations streamlined that many companies don't have. I wouldn't know how to define that culture, but even in meetings for example, they are not done so much just because, they are focused, you start from what has been done, but things stay lean, they are not institutional meetings, they are the basis for doing something more, always in a streamlined way and going straight ahead.
Why did you choose Smartpricing?
Because I fell in love with Luca, I liked him so much, he told me about the project and I heard a bell ringing inside me: I thought "yes, this is a good challenge." 
I worked in other companies that started from the bottom, but where I had come in later, and very quickly they got to be listed on Nasdaq. With Smartpricing I saw the same thing happening again, but with the opportunity to see a company grow and soar from the ground up, becoming an integral part of the process. After one month, I can confirm that I would sign with Smartpricing again.
Is there anything you want to add that candidates might want to know?
I can say that a person who enters Smartpricing, is not afraid to roll up his sleeves and put all the energy they have into this adventure, because it is an adventure, they should not be afraid to put their heart, soul and head into it. If one does not feel like getting swept up in this wave then it is not the right company, if one wants to get swept up in this wave then it is the right place. There are hierarchies, but everyone has a great level of operation. Everyone makes a contribution, and that is important. If someone has a desire to contribute to the realization of the project, then they are in the right place. Without fear of admitting a mistake or contributing something good, so both positive and negative. If you want a static environment this is not the place for you. Smartpricing is team, team, willingness to do, a culture of caring for people, admitting mistakes which leads to improvement, getting involved with heart and soul. All starts from a process of acceptance that can only bring benefits. If you have the right mindset to join Smartpricing and be a key part, with humility, willingness to work, and technical expertise, then yes, you are in the right place.
---