Booking Engines: Why They're Essential for Hotel Revenue + Choosing the Best One
Not all property owners appreciate the importance of a booking engine for their website. Many rely on poor or, even worse, unreliable software. Some have never even heard of booking engines.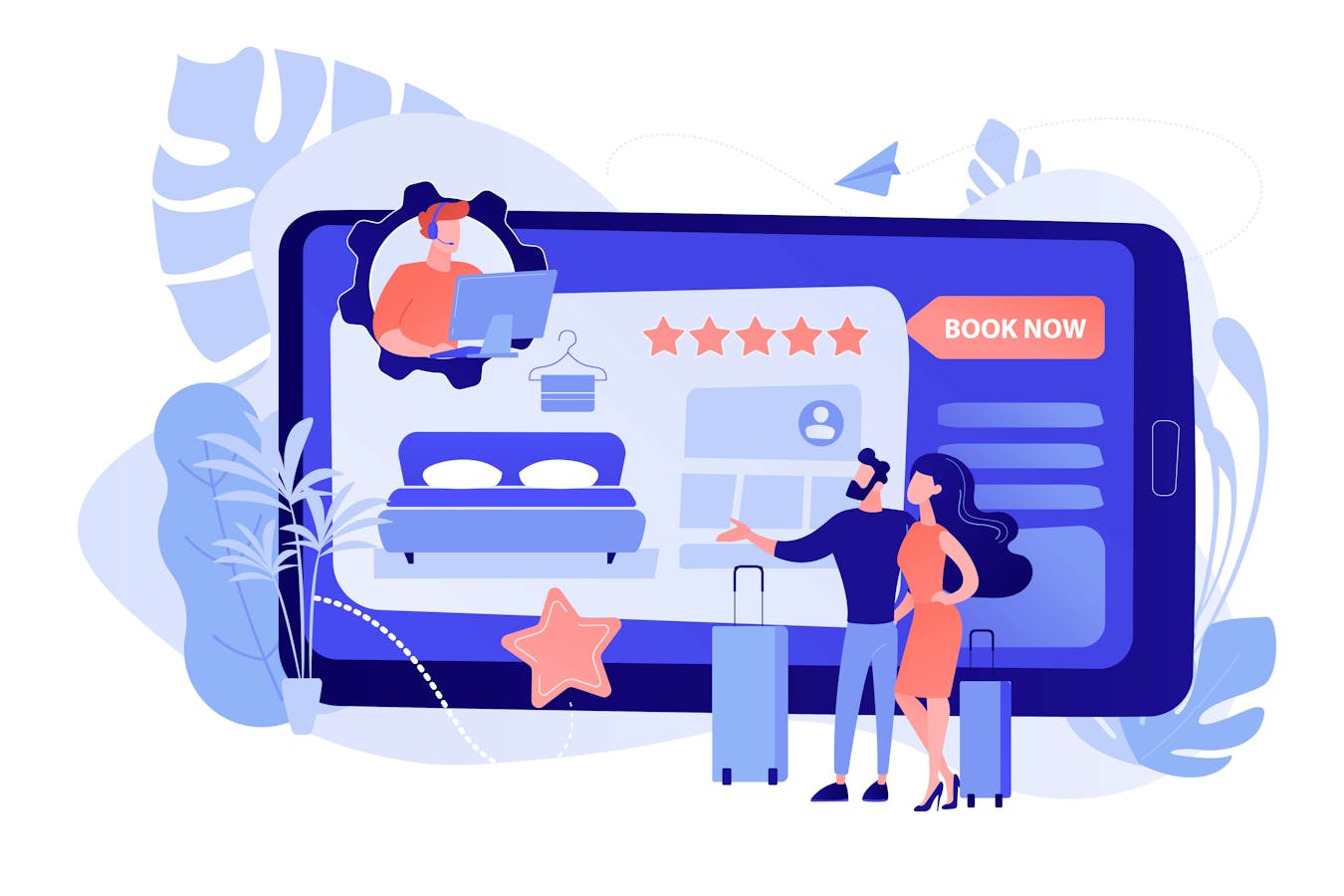 In this article we will clarify exactly what makes booking engines so crucial and explain how they work. 
Until a few years ago, most bookings were made in person. Hotels and villas needed to be eye-catching to stop tourists in their tracks and make them consider spending the night. It was vital, therefore, to stand out from the competition and focus on the aesthetics of your hotel. This was key to sustaining bookings over the long-term. 
In the digital age, with the introduction of countless online services, standing out visually is no longer enough. In fact, today's booking methods mean tourists generally make reservations months in advance and predominantly online. And so a difficult question has arisen: now that everything's online, what is the most effective way to increase bookings at your property?
What is a booking engine?
It's important to put yourself in the customer's shoes and understand that anyone looking for accommodation online wants the experience to be as easy and painless as possible. That's where the booking engine comes in. 
Booking software is the key to making reservations on your website easy and accessible. With a good booking engine, holidaymakers can check the availability and prices of all your rooms in real-time. They can also book their room in a few clicks by supplying basic contact information and paying by credit card. 
Having an effective booking engine on your website has become even more important with the explosion of OTAs—these platforms are known for being fast, intuitive, and easy to use. If your main goal is to sell rooms through your own website, it's crucial to have a booking engine that can compete with OTAs. 
If the user experience on your website is slow or confusing, the odds are that customers will give up and turn to the nearest OTA—or worse, the high-performing website of another hotel or B&B. 
Serious advantages of booking engines
The advantages of booking engines don't stop with the property owner—they extend to customers, too. For example, booking directly on your website can mean more competitive prices, special offers and rewards for future bookings.
For hoteliers, high-performance booking engines bring a whole lot of advantages, including:
Selling rooms without paying commission (typically between 14% and 25%)
Increased conversions on the website (i.e. a higher percentage of website visitors making bookings) 
Better visibility on metasearch engines like Trivago, TripAdvisor and Google
Time savings by automating the entire booking and payment process
Improved customer loyalty through personalized offers and discounts 
Increased average order value (AOV) through techniques like upselling and cross-selling
That last point—using cross-selling and upselling—describes two basic marketing strategies properties can employ to maximize the number and value of bookings. 
Upselling is a simple tactic where, immediately before booking, you suggest a slightly more expensive product or service with superior features. For example, when a customer moves to "confirm booking", you might ask if they're a smoker. If yes, you suggest a room with a balcony that costs only a few euros more; if they choose this room, we have increased the order value with virtually no effort. 
This is slightly different. Instead of suggesting an alternative product, we encourage customers to purchase additional products or services on top of their booking. For example, in order to make the occasion more special, you might ask customers if they want to reserve a bottle of Champagne in the room. If they agree, then we've sold two services instead of the one they were initially looking for. 
Upselling and cross-selling are two techniques that can be automatically utilized by your booking engine. 
Choosing the best booking engine for your website
When searching for accommodation online, people tend to shop around: they'll use OTAs to compare different options and visit multiple hotel or B&B websites until they find the perfect deal. It's important for any modern booking platform to focus on price, speed and security—these are the 3 key areas which can convince a customer to stop looking around and book with you. 
The ideal booking engine should be: 
Intuitive and attractive—Simplicity is king. Your platform should be clean, clear and concise. Make sure customers get all the required information easily, without having to dig around, and allow them to complete a purchase in as few clicks as possible. Your engine must also be compatible with all devices: laptop, tablet, and smartphone. 
Easy to navigate—The platform must work perfectly in all browsers (Chrome, Firefox, Safari etc) and load all contents quickly. Slow loading is a killer for online bookings. 
Connected to a channel manager—By integrating with the channel manager, you can update room availability and prices effortlessly, in real-time. 
Simple to operate—The control panel must be intuitive, easy to use and should provide easily-digestible statistical data on bookings. 
Secure for users—It's crucial to choose a secure booking engine protected by an encrypted connection, i.e. SSL certified technology. This makes customer data and payments completely secure in any browser. 
When you decide it's time to invest in a booking engine (or to upgrade your outdated one) it's important to allocate a sensible budget—a high-quality engine is going to generate revenue in the long run, while chasing the cheapest product will lead to poor, unsecure and ineffective service. 
Low-cost booking engines are generally hopeless at integrating with your site. The result is that users are redirected to external payment pages, for example, which makes customers uncomfortable. The inevitable result is a sharp increase in abandoned bookings and, of course, lower revenue and even reputational damage for your brand. 
Similarly, using a low-quality channel manager can mean room availability and pricing are not updated in real-time, leading to unreliable reservations and potential overbooking.
The importance of variable pricing with Smartpricing
As we've seen, using a high-performance booking engine leads to real and tangible benefits—most notably an increase in booking numbers and an increase in AOV. However, to get the best possible return, you need to be using variable rates—not fixed prices. 
The use of variable rates is fundamentally important to increasing your turnover with the booking engine. The reality is that fixed pricing (or manually updating prices 1-2 times a year) is no longer effective. Dynamic pricing is the new gold standard, where room rates automatically adjust based on a wide range of factors including season, weather conditions, local events, competitor activity and much more. 
Smartpricing is a cutting-edge booking engine that automatically manages your room rates and optimizes prices for maximum revenue and bookings. Our clients have enjoyed revenue increases of up to 30% YoY by integrating Smartpricing. Our engine uses AI and machine learning to implement the optimum price changes at the ideal moments. 
To learn more about what Smartpricing can do—and to see it in action for yourself—hit the button below to arrange a free demo. 
---