One-on-one with Davide Bulbarelli, Full Stack Developer for Smartpaying
In this article we introduce you to Davide Bulbarelli, Full Stack Developer at Smartpaying.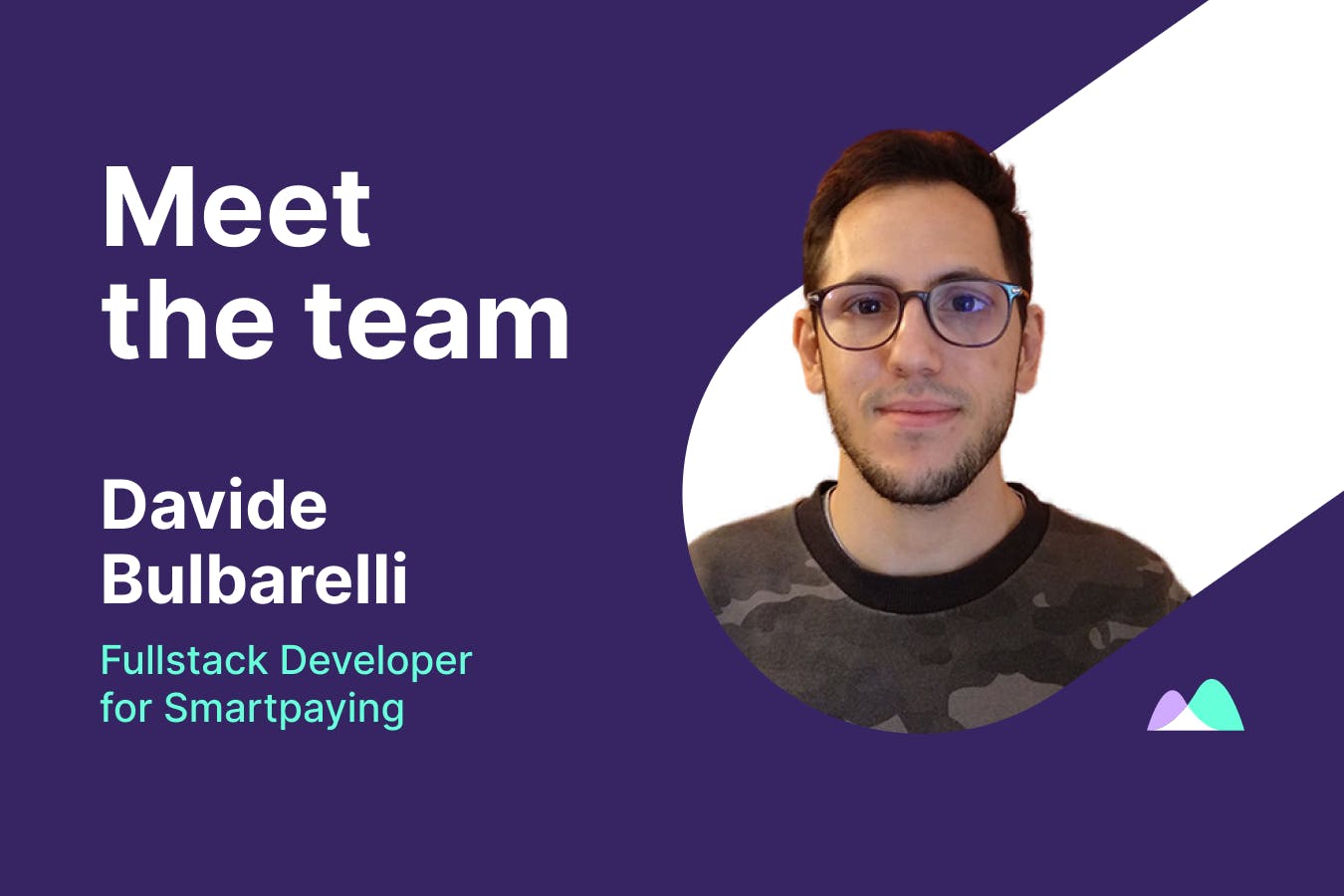 How long have you been working in Smartpricing and what do you do?
I started working at Smartpricing as a Full Stack Developer in October 2021. 
At first I worked on the revenue management platform, but after about a year I was offered to dedicate myself to a new project.
So at the end of 2022 I became Full Stack Developer for Smartpaying, a new product of Helium S.r.l. (the company of Smartpricing).
Smartpaying helps hoteliers better manage guest payments and increase their revenue by selling extra services.
Why did you choose Smartpricing?
I joined Smartpricing because I was looking for a different work environment than I had previously experienced. 
Before joining here I worked in a large company, where I felt I was just one employee among many, and I quickly realized it was not for me.
So my passion for startups led me to look for a new setting where I could make a difference through my work. 
Moreover, when I saw Smartpricing's open positions, I delved into its working methodology and found that it is one of the most advanced in the market.
Therefore, after evaluating the company benefits and the tasks I would be performing, I decided to send my application and join this innovative company.
What does a typical day look like for you?
Each of my days starts with two meetings.
The first is an alignment call with the rest of the technical team, while the second is with Damiano Mastrangioli, product manager of Smartpaying. 
During these meetings I update my colleagues on the tasks I am working on.
Afterwards, I focus on the actual development or fixing any problems (bugs). 
Recently we have adopted the scrum development methodology and introduced new meetings to set priorities for the following weeks.
What do you think are the skills needed to do your job?
The skills needed are many, but the most important are probably organizing priorities and knowing how to make decisions. 
This is because you have to be able to balance the technical aspect of the product with the business aspect.
In fact, on the one hand I have to develop new features, while on the other hand I have to make sure that they are useful for customers.
In terms of technical skills, you need in-depth programming knowledge, both frontend and backend.
What does Smartpricing have that other companies don't?
There are several elements that distinguish Smartpricing from other companies. 
First, we take a data-driven approach, which allows us to make evidence-based decisions and respond effectively to customer needs.
We also constantly strive to adopt new technologies and upgrade our systems to make work easier and improve the quality of our services. 
What sets Smartpricing apart most, however, is its corporate culture.
How does Smartpricing's culture help you to do your best?
At Smartpricing I am given the freedom to act and decide for myself what solutions to take to meet the daily challenges of my job.
In this way, I am valued as a person and not just as an employee of the company.
In addition, here I have the opportunity to work remotely and flexibly, being able to effectively organize my time and better balance my private and work life.
When people ask you what it is like to work in Smartpricing, what do you say?
Very satisfying! 
The freedom to work wherever you want and being able to make decisions independently makes me feel valued and fortunate.
But the pleasure doesn't end there. 
Smartpricing is a fast-growing company where optimizing your time is crucial.
When we want to launch a new feature, we try to test it as quickly as possible. 
If the test returns good results and confirms the feature's sustainability at the business level, we immediately implement the solution.
All this makes Smartpricing a constantly growing company where working is truly rewarding.
What do you like most about Smartpricing?
The aspect I appreciate most about Smartpricing is the culture of active listening that exists in all areas of the company. 
When I share my thoughts about work activities, I know that I am always listened to and respected.
Also, if I propose a new idea, it is carefully evaluated and put into practice when it serves the company's goals.
This culture of listening and valuing feedback allows for both company and personal growth.
What would you tell people who want to join Smartpricing?
If you are interested in the startup world, this place is perfect for you. 
Here you will be able to work on compelling activities and find innovative solutions to problems. 
In addition, your input will be essential in growing this business, as each team member can make impactful decisions for the company. 
You will also benefit from a strong team spirit among colleagues because we are all driven by common goals.
---