ADR for hotels: what this index means and how to increase it
In revenue management, the ADR index is one of the key indicators in evaluating your hospitality establishment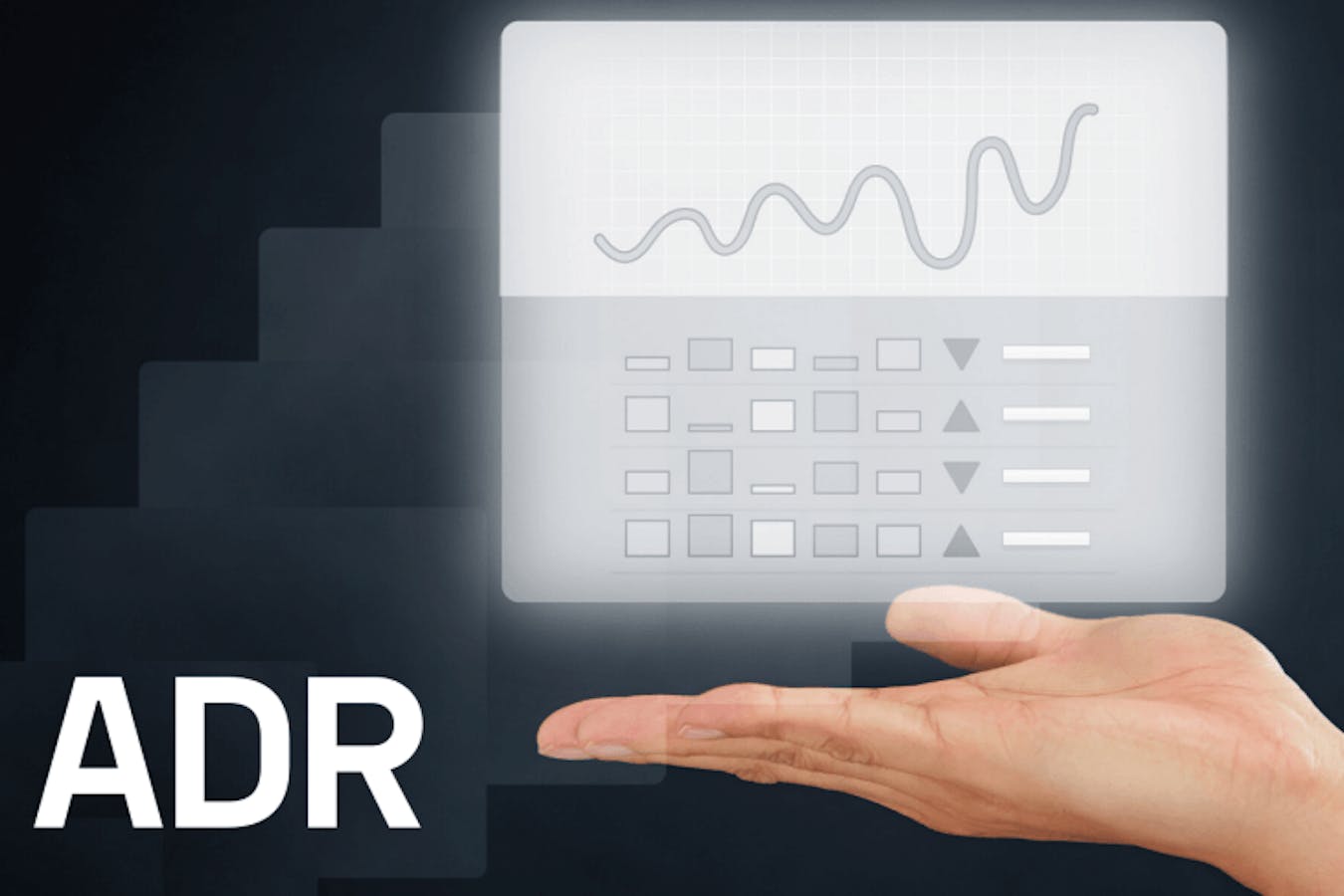 What is the ADR index
An acronym for Average Daily Rate, ADR is an index referring to hotels but also to other accommodations such as B&Bs and vacation rentals. It identifies the average price per night (or if you prefer "per day") that rooms sold in a certain period generate.
It essentially indicates how much your customer spends on average to sleep one night in your facility.
Along with RevPAR and occupancy rate, it is one of the three main metrics to gauge whether your property's business, be it a hotel, B&B or vacation rental, is doing well.
ADR can be calculated with reference to all room types, all customer types, and all booking channels, but it can also be calculated on a point-by-point basis for each customer type and according to the specific sales channel and room type.
In addition, ADR can be used in combination with percentage occupancy rate (%OCC) to calculate RevPAR.
RevPAR = ADR x %OCC
(If some of these terms seem obscure to you, you can consult our revenue management glossary and quick guide.)
ADR formula: how to calculate it
The formula for calculating the ADR of a hotel or other accommodation facility is very simple. You have to divide the total revenue generated from the room sales in a certain period, by the number of rooms sold in the same period.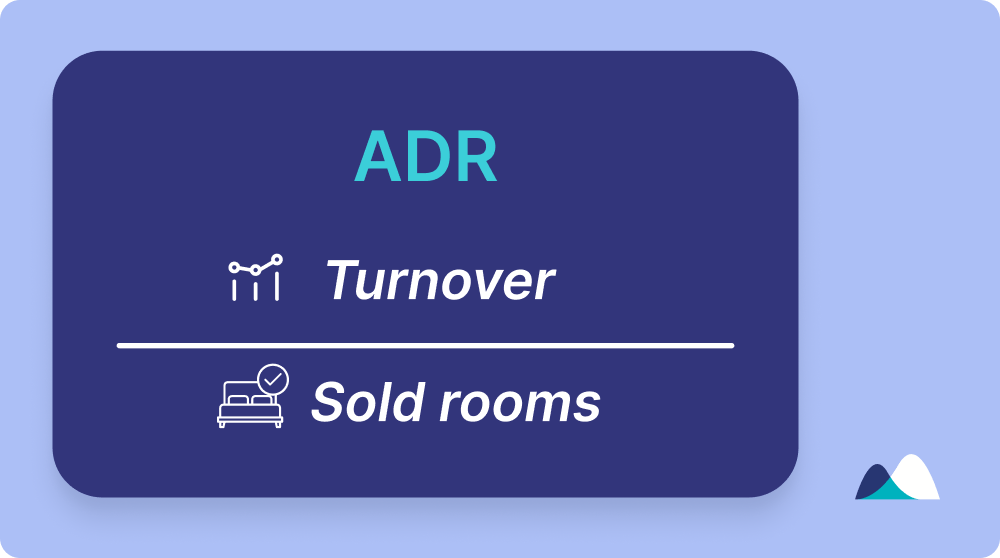 Here are some tips to help you avoid mistakes in the calculation of the ADR formula.
Common mistake #1: Not excluding "complementary" rooms from the count, i.e., those occupied for service reasons (given to staff or occupied by the property, for example). If you do not exclude them, you risk distorting the result by lowering the actual value of the ADR.
Common mistake #2: Not defining at the outset which revenues to include in the ADR formula and which not to include.
Is breakfast revenue included? What about dinner or spa revenue?
Here's our advice.
If you use ADR as an internal reference figure for your business and not as a tool for comparison with other facilities, you can freely choose what to take into account and what not according to your needs (the important thing is to record it and take it into account).
If, on the other hand, you use ADR to calculate RevPAR or as a comparison figure (benchmark) with your competitors, I recommend that you use an international standard to choose how to perform the total room revenue calculation.
For example you can use the standard defined by STR, you can find it here.
Now that you know the theoretical basis, below you will find examples of calculating ADRs for a hotel.
To make things easier, we consider the time frame of one day.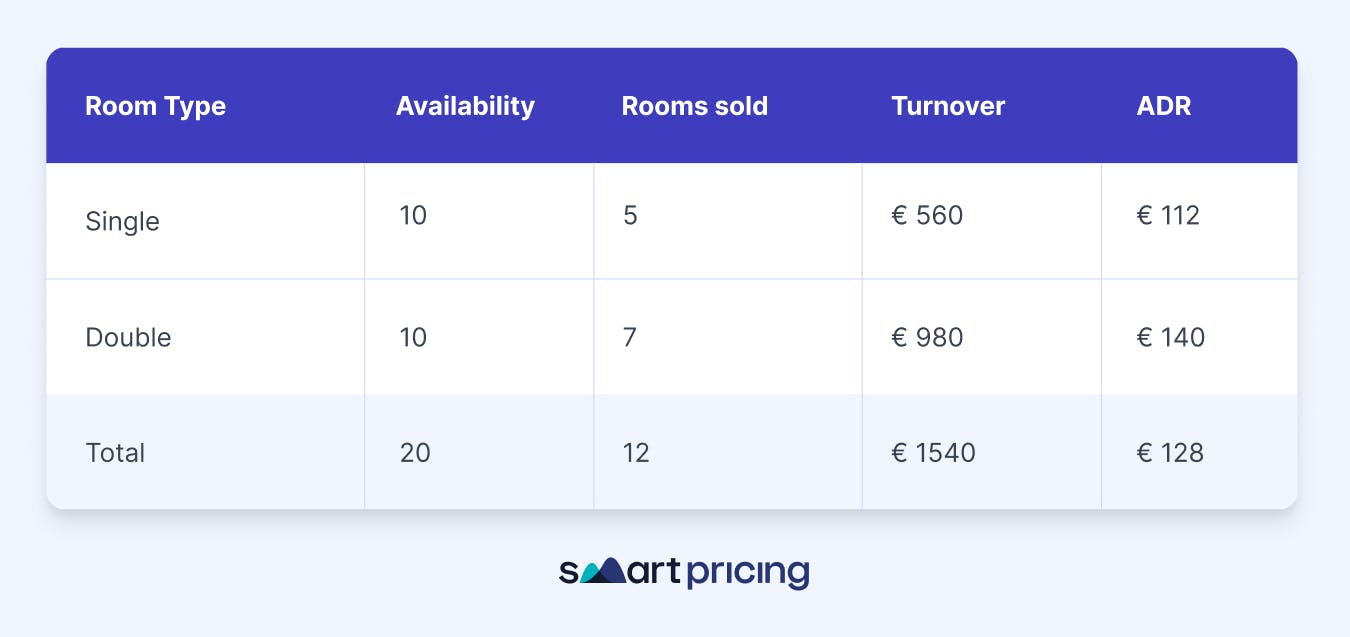 This hotel has 10 single rooms available. On 20/03/2022, it sold 5 of them and earned €560. 
Dividing the total single room revenue by the total number of single rooms sold, we find that the average daily rate on that day was €112.
The same process can be carried out to calculate the ADR of the double rooms, and then also to derive the overall total.
ADR of double rooms: €980 / 7 = €140
Overall ADR of the hotel: €1540 / 12 = €128
How important is it for a hotel to measure ADR?
Knowing your property's average daily rates is useful for many purposes.
Calculating your overall ADR, for example, allows you to compare your results to other benchmark establishments (such as your local competitors) and thus understand whether you are valuing your business.
If the value of your ADR was below that of your competitors, you might draw the conclusion that you are selling too low or that, in the face of average occupancy, the quality of your services is perceived as inferior to others.
Instead, calculating segment-, channel- and product-specific ADR allows you to compare the performance of individual revenue sources.
By doing so, you will be able to allocate more rooms toward the most profitable sources and consequently go on to increase the value of the overall ADR as well.
Finally, whether you calculate the specific or the general figure, you can also perform comparative analyses between different time periods (quarterly, yearly, etc.), obtaining a time trend that you can consult over the years.
How to boost ADR
To make this index perform even better, you can make use of some strategies to increase revenue per booking. We recommend five of them here.
Improve your accommodation's online reputation

A hotel's reputation has a direct impact on demand, which in turn affects average price and occupancy.

Keep in mind that almost half of travelers choose which establishment to book at by reading online reviews, as confirmed by a study from Cornell University in New York: a 1% improvement in reviews, can correspond to an increase in profitability of up to 1.42%. We have written a separate article on how to increase margins through review management.

Offer services tailored to your guests

Since a decent bed and bath can be promised by everyone, it is very important to differentiate yourself from the crowd by allocating special attention to the guest. To do this, you must first get to know your potential customers and know what they expect from you.

This involves doing marketresearch.

Offering a service with features and communication targeted to your guests' needs makes the market recognize your product at a higher value (and consequently a higher price).

Offer extra services

Convince your guests to spend a little extra by offering attractive extra packages and services at the time of purchase (but also afterwards).

For example, you can propose a romantic package or breakfast in the room.

If you also segment rooms based on amenities (such as king-size bed, balcony, lake view, capacity, with whirlpool etc.) you can make some guests decide to spend a little extra when booking to benefit from extra comfort.

Disintermediate

One of the most insidious factors that negatively affects ADR (when calculated on net revenue) are the portals' commissions. 

Working, for example, with a 30 percent disintermediation rate and an average commission of 15 percent, you are leaving as much as 5 percent of total revenue and, indirectly, average value per room sold on the plate.

Reducing the percentage incidence of commissions therefore increases ADR.

Take advantage of dynamic pricing

Use a Revenue Management System that is able to change room rates daily or multiple times throughout the day, based on real-time market demand data.

Smartpricing does just that, try it!
Beyond ADR
Despite all these qualities, when taken on its own ADR is an incomplete index for representing the overall economic state of your facility. 
It does not account for the value of lost revenue due to unoccupied rooms and consequently it does not represent the absolute profitability value of the facility.
To get a complete view of performance, it is necessary to juxtapose the ADR with the occupancy value (%OCC) or directly calculate the index produced by the intersection of these two parameters, i.e., the RevPAR.
---
Learn how Smartpricing can help you increase your ADR without stress, working for you!
---