Using Online Reviews to Hit Your Revenue Management Goals
Online reviews are now considered the most effective tool for customers to compare accommodation options and find their perfect property—are you maximizing this potential?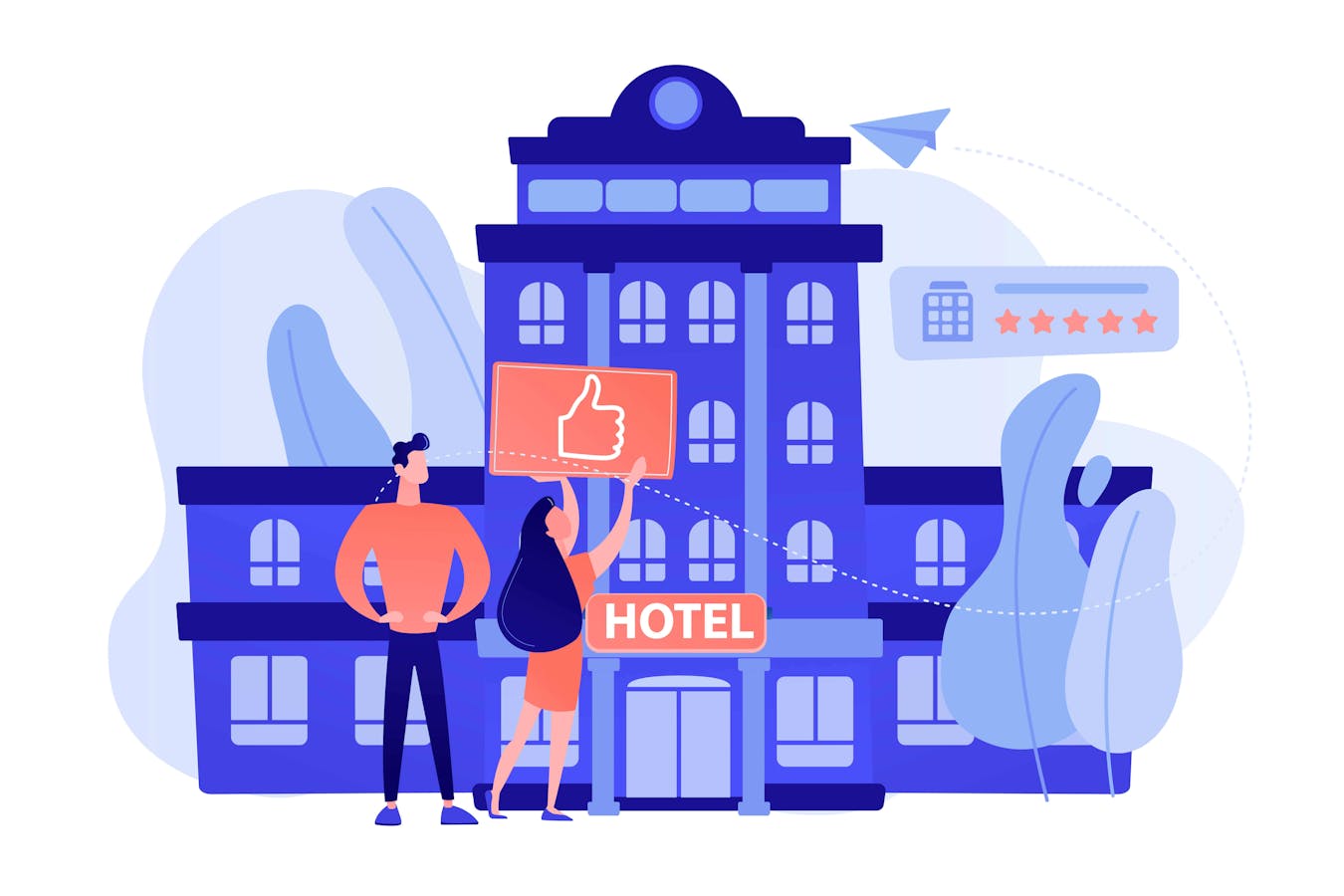 The location of the property, the style and cleanliness of the rooms, the rates, the charm of the owners—these are all fundamentally important to the success of any hotel or rental property. And there is one absolutely dominant method of sharing all of these qualities with potential customers (in a way that's sincere, convincing, and totally free for your business) and that is online reviews.
Today, more than ever, customers are looking for products and services which fully satisfy a wide range of needs and desires. It's well established that online reviews are by far the most effective tool for influencing customer decisions in most industries. When it comes to researching products and services, 97% of consumers read reviews before getting anywhere near a purchase. 
(Important note for brands: 68% of consumers choose brands that promptly respond to reviews, whether positive or negative, since it shows there are real, passionate people behind the business.)
By transposing these findings to the tourism sector, we can say that any property with good online reviews is going to be more popular. Properties that engage well with customers (i.e. responding to reviews or any public communications) will have an even bigger advantage. 
Competition is sky-high in today's tourism sector. Property owners need to be pulling out all the stops to have any chance of securing regular bookings and winning new customers—and online reviews are probably the most effective weapon in their arsenal. 
Why are online reviews crucial for your business?
Potential customers might compare dozens of different properties for a vacation, and customer reviews are very often the deciding factor—either for or against. We strongly recommend that you allocate time specifically to managing online reviews, both as part of your revenue management strategy and as part of your marketing. 
On a more strategic level, it's helpful to note that customers can usually filter properties (say on comparison sites or OTAs) and exclude any with less than, for example, an 8/10 average. This automatically eliminates all properties that don't meet this requirement—that's why it's imperative that you're proactive about receiving high-quality reviews as often as possible. 
As a rule of thumb, anything at 8/10 or 4/5 (or above) is considered very good; less than that and you risk alienating potential customers. There is a painfully clear correlation between reviews & ratings, and number of room bookings: the better a property is reviewed, the more likely it'll be booked. 
Since customers proactively read the reviews (not just the rating /10) they will see your responses to feedback as well. Actively responding to all reviews (whether positive or negative) is a chance to show your great personality. Unexpectedly, it's the responses to negative feedback which are the most valued by customers since it shows you truly care about providing a great experience. 
You could define online reviews as a sort-of "business card" for those who come across your properties during a search. Through the experiences of past guests, a potential customer can get a real feel for what it's like to stay in your property, the services available and what they might not like. Even better, reviews can surface information (both good and bad) that might be missing from the listing or the property's social media. 
Many hotel or B&B owners think that their website is enough: it's got all the information, some reviews from past customers, and is everything new prospects need to make an informed choice—except it isn't. What sane hotel owner would write negative copy about their own property? Even if everything on your website is 100% true, new customers want to hear it from unbiased 3rd parties; that is, previous guests. 
That's the real reason why customers place so much value on reviews: because, once you exclude a few outliers, you get the truth of what a property is like. 
Consider how many "stars" a hotel has. This is the traditional rating system for hotels: 5 is best, 4 is excellent but slightly worse, all the way down to 1-star. Now consider you found a 5* hotel with very average reviews, but a 4* hotel with exceptional reviews across the board—we can guarantee that the second property, despite being "objectively" less luxurious, will receive more bookings. 
In today's tourism sector, customers book accommodation based on gut feel, subjective opinions and the feedback of others—not based on what the property says about itself. 
Types of online review
When talking about online reviews, we don't just mean those posted on OTAs or other meta searches like Tripadvisor and Trivago. There is one platform which has more authority than any other when it comes to customer reviews: Google. 
The behemoth search engine is considered the gold standard for reviews. Properties with the best reviews will rank higher in Google search results and, when searching the name of a property in Google, the latest reviews automatically appear on the page. 
So having excellent Google reviews not only distinguishes you from the competition, it physically raises your profile in search results and gives your property better visibility than your competitors. 
That's why it's crucial for any hotel or rented accommodation to have a Google My Business account. This is where you'll collect and respond to reviews; without an account, you'll have one less avenue for customer reviews and, almost directly, will suffer suboptimal bookings as a result. 
Seen in this light, it's clear that increasing online reviews should be an integral part of any marketing strategy focused on upping bookings and expanding the customer base. And it's not just about getting more reviews, either—you need to work hard at delivering a service so good that the rating on those reviews climbs too. 
By going through your reviews (and even better, talking to customers directly or surveying them after a stay) you can find out the exact factors which caused a particularly good or bad review. You'll find your own unique points, but here are a few that are common across a huge number of properties: 
Breakfast—This is the final aspect of your property that customers experience before checkout. So, when they go to leave a review, breakfast is top of mind and influences what they write. Making a good breakfast (not exceptional, just good) is not hard, but many hotels and B&Bs deliver something substandard and as a result, even after a lovely stay, will receive generally negative reviews. 
Cleanliness—Your rooms need to be freshly tidied and squeaky-clean for every occupant. No exceptions and no excuses.
Staff—Your staff should always be polite and professional. If a customer makes a reasonable request, it's your job to fulfill it—even if that means occasionally going the extra mile. 
The idea is that you can use this advice to continually iterate and improve the experience at your properties. 
Practical advice on responding to reviews
We've already explained how important it is to visibly and quickly respond to reviews. What we haven't covered is how to respond; what kind of tone or language should you use? 
Answers, in general, should be:
Written In a courteous and polite tone, exactly how you would speak to the customer if they were standing at your front desk
Short and concise, without going into too much detail or blabbering on forever
Personalized. You don't want to give out copy-paste answers, since prospective customers will recognize this and know that you don't truly care about customer experience. For the time and effort required (which is minimal) you should always write a proper reply. 
In the case of compliments and good feedback, you can give a casual but strategic response. Start by thanking customers for choosing their property and stating that you're delighted they enjoyed their stay. Then encourage the customer to come back again, inviting him to choose a longer stay or a different package. This serves the dual purpose of planting the seed in the customer's head, but also highlighting the different rooms or experiences available at your property. 
In the event of negative comments, you need to be reasonable, thoughtful and genuine.
When a customer states something unpleasant that happened during the stay, you need to thank them for their honesty and assure them it won't happen again. It's important not to contradict the customer, but to act humbly, knowing that even hotels with the best service can sometimes come with mistakes.
This lets future guests see how attentive the property is; that you listen to customers and take mistakes seriously. 
If you get a review that's full of insults or cursing, it's crucial to respond politely. Even if they're in the wrong, you have to remember that potential customers are reading this exchange—snapping back an angry response makes both of you look bad. Ideally you would invite the customer to discuss things privately and resolve it out of the public eye. 
How to get more reviews
We've firmly established that you will benefit from online reviews—but what should you do to get more of them? 
Every property should be working at generating an ever-increasing number of online reviews. There are many ways that hotel staff can encourage positive reviews. For example, you could ask customers to leave a review during checkout. 
Just as you're saying goodbye, you can ask how they enjoyed their stay. If you get a positive answer, tell them that leaving an online review helps spread the word (which is great for the property) and would mean the world to you personally—whether that's on Google, a meta search platform, or somewhere else. 
Most people aren't bothered about leaving reviews; they only consume them. It's this audience we're trying to leverage by physically requesting a review—most will still not bother, but a percentage will go on to leave positive reviews which, over time, will do wonders for your reputation. 
Another way to encourage customers to leave a review is sending an email reminder. Please try to make these emails personable and fun—bland and robotic emails do not get good responses. But if you can remind them of their awesome stay at your property, there's a good chance they'll leave a positive review in return. 
The power of social media reviews
While we do encourage most properties to focus on Google and comparison website reviews (since, as we discussed, these are incredibly influential) there is another source of online reviews which shouldn't be overlooked: social media. 
Social media is tricky because it's a true double-edged sword: positive reviews that gain a little traction are like free PR from a trusted source. Spontaneous, free advertising for your property. However, when customers post negative (or even hateful) content and it gains traction, this can be a nightmare for your reputation—even if the comments are totally unfounded. The more authority the original poster has (for example, if they have a large following) the carefully you need to manage their comments. 
Social media management is a crucial part of your marketing strategy. Even if you're not posting yourself, it's essential to engage with anyone leaving reviews or recounting their stays. You should be courteous, polite and concise (just like responding to online reviews) and remember that your reputation is always on the line. 
If you've got a social media page, it should be proactively managed. The ideal case would be to start creating content yourself and promoting you accomodation on social networks—this can lead to enormously positive results.
By following the advice laid out in this article, you are almost guaranteed to see you booking activity and interest in your property increase over time—online reviews are just that powerful. 
And in order to capture all that interest and maximize room bookings and revenue, you should consider automatically optimizing your pricing with Smartpricing. We are a revenue management software that generates and manages the best rates for your properties, in real-time. Our system is managed by experts in the tourism sector, ready to support the growth and profitability of your business.
---