Reviews: Everything you need to know to boost your margins
Online reviews are the most popular way travelers compare facilities to book at. If handled properly, they can increase your profit margins, and in this article we explain how to do it.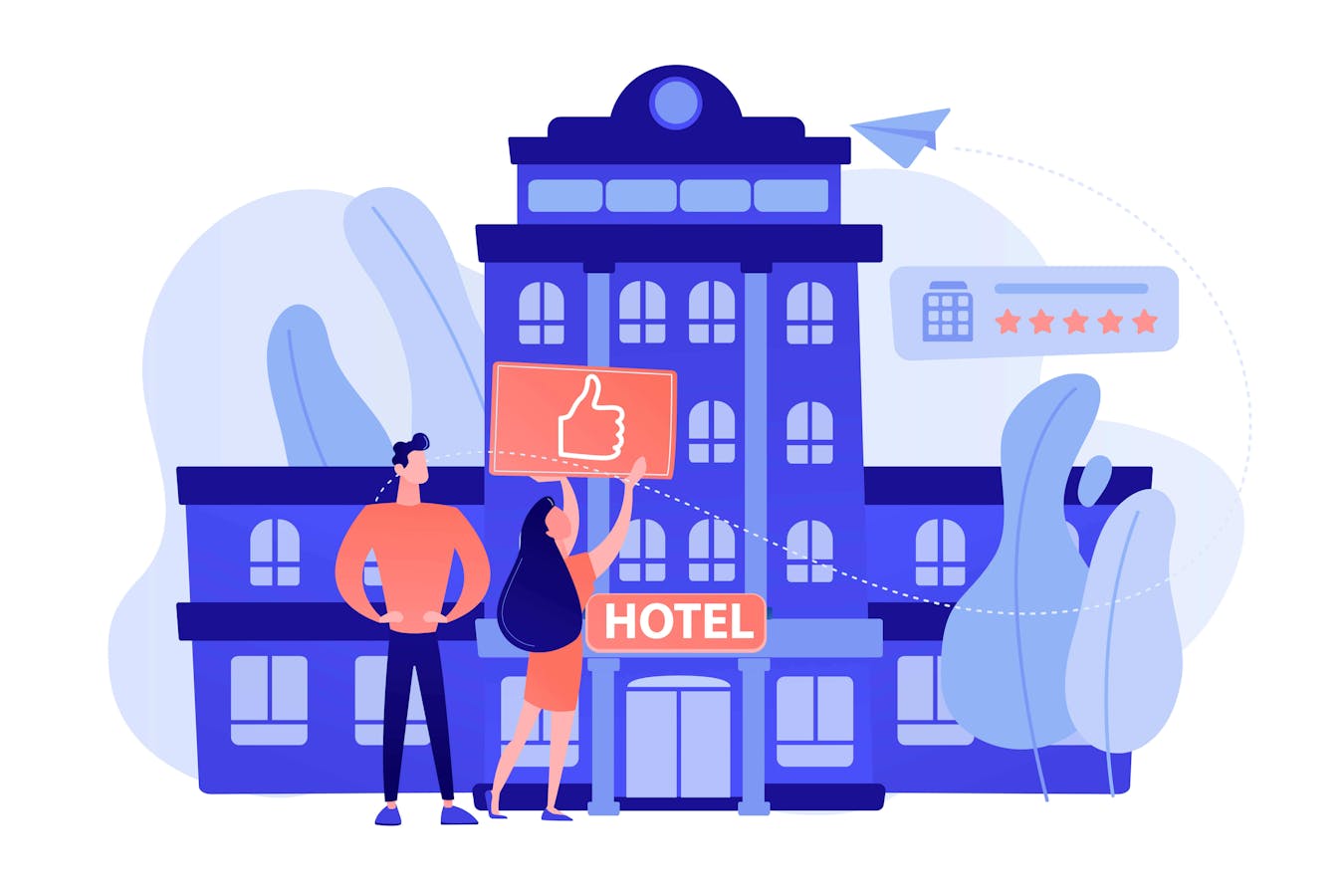 How do potential customers use reviews?
This is the first question you should ask yourself.
If you don't put yourself in the customer's shoes, you might view reviews in the same way as stars, indicators of a facility's quality from a time well before reviews. In reality, stars signal a category of service rather than quality, that is, what is the list of services offered and some guarantee of minimum standards. Stars are thus a starting point to which reviews are added to evaluate an accommodation facility in two ways.
Quantitative evaluation: the rating or the number of "dots" are used as a filter to discard facilities that do not reach a minimum score from the outset.
Qualitative evaluation: reading the reviews is used to see if there are any consistent issues, which may make the stay less pleasant, or rather irrelevant problems. For example, if I read that the latest complaints are about dinner, but I plan to book a B&B stay, I would judge those comments as irrelevant.
What advantages do you have in knowing how to handle reviews?
1 - You improve internal operations
Complaints and comments from customers can give you an insight into the accommodation and how different services are delivered by the staff. A negative comment about a particular service can be the basis of a process to review and improve that service.
After all, when you respond to customer reviews by saying "thank you for your valuable feedback," by "valuable" you mean just that: it helps you improve by putting a magnifying glass on something you thought you were doing well, but which is clearly not working as you expected.
2 - You improve communication with customers
I have heard countless hoteliers complain about the many customers who say nothing at the hotel, but then leave a negative review once they return home. They complain about the lack of communication from guests. However, once they receive the complaint, they do not take advantage of the communication channel that has been opened to talk to customers.
The ability to respond to reviews is essential to communicate, explain your reasons in cases of disservice, show humility in apologizing, and also to promote your hotel ("if you would like to give us another chance to make it up to you, we would be delighted to make you a personalized offer for your next stay").
3 - Reviews allow you to do marketing
As I mentioned earlier, customers read reviews before they book. So reviews are a very important marketing and promotion channel for the accommodation that can highlight features or services that perhaps had gone unnoticed by the potential guest.
If, for example, a guest wrote complimenting the airport shuttle service, that is a great opportunity to promote that very service: "... indeed many customers compliment us for the quick and cheap shuttle service..." If a guest praises the quality of the food, you can increase the value of his or her comment by writing "...Chef Antonio would like you to know that he is very happy that you noticed the quality of the raw materials personally chosen by him."
4 - They guarantee greater visibility
This is a benefit closely related to revenue management. Better reviews guarantee greater visibility for the hotel and consequently the possibility to improve your revenue, by increasing the number of potential customers.
How do reviews improve visibility? In two ways.
First, always keep in mind that one of the most frequently used filters on OTAs is the minimum rating filter. Customers, in essence, decide to see only those hotels in a certain location that have an average rating of, for example, at least 8 out of 10. As a result, all hotels that meet this threshold will have an improvement in visibility, while those that do not meet it will see their visibility reset to zero.
The second way is related to the indexing algorithms of the OTAs.
Let us use Tripadvisor as an example. We know, by TripAdvisor's own admission, that the ranking of hotels in a location is determined by an indexing algorithm that takes into account 3 factors:
quality of reviews (the average rating of reviews received)
quantity of reviews (how many reviews were received)
age of reviews (the older a review is, the less valuable it is)
We also know that improving one's ranking increases one's visibility because, just as with Google search results, being in a high position guarantees more views and clicks.

So the math is simple:
Better reviews + more reviews + recent reviews = better ranking
Better ranking = higher visibility = higher revenue
5 - Greater value equals higher prices
Here's a benefit you probably don't expect, also related to revenue management. If the quality of reviews is used by potential customers to assess the quality of a facility, greater quality corresponds to greater willingness to pay, i.e., the maximum price a customer is willing to pay. In practice, when faced with better reviews, you can charge higher prices!
This phenomenon is not only theoretical, but has also been demonstrated by a study at Cornell University.

In it, Chris Anderson (one of the world's leading revenue management scholars) proves the hypothesis with numbers: a 1 percent increase in one's average ratings generates a 0.89 percent increase in the average price, while a one whole point increase on a scale of 1 to 5 on Travelocity (one of the OTAs used in the research) raises the average price by 11.2 percent.
How do you manage reviews?
Managing reviews, in my opinion, consists of two basic parts:
the mindset, that is, the mental approach with which you and your team approach reviews
the practical activities, the day-to-day operations that enable you to improve the quantity and quality of reviews
The mindset with which you approach reviews is critical to optimizing results.
There are three fundamental mental mantras to adopt.
1 - Reviews are good
For the 5 reasons we saw above, you should be happy when you get a review because even a negative review, which nobody likes, still has positives. And consequently, the more reviews you receive the better.
2 - The customer is helping you
Even the one who leaves a negative review is giving you a hand in improving your services. Think about what used to happen before online reviews: a customer received a disservice, left and spoke badly about the hotel to friends and family. You continued to work as before because you didn't know about the disservice, so other customers suffered. This was happening until a customer told you about it, and only then could you solve the problem.
3 - OTAs that collect reviews help you do your job better
They are your partners and the more you help in collecting reviews, the better off everyone is.
Practical activities that help you increase and improve reviews include the following.
Push customers to leave more reviews, both online and offline
The tools are diverse and range from hand-sent post-stay emails, to using special software, to goodbye business cards with QR codes that link to the review page, to simple in-person reminders. Pay attention to which guests you push to leave a review. It happened to me that after a disastrous stay in which I had received a series of disservices, I was asked to leave a review (which I promptly did!).
Respond to reviews
Even today very few hosts do this. Remember that the customer, even if he or she leaves a negative review, is not mad at you but is only trying to help in the decision of "fellow travelers." Take negative reviews with a grain of salt, try to show empathy toward the emotions felt by the customer and politely demonstrate your point of view. The Smartpricing team has created a short guide to help you respond to reviews, download it here!
Monitor and analyze
If the complaints you receive don't really lead to improvement, you are clearly not yet making the most of reviews. You need to analyze them, figure out what went wrong, and implement activities so that disruptions do not happen again. Meetings with the team are crucial, serving both to understand what is off and what can be done to prevent a recurrence of disruptions.
---
Knowing how to manage reviews in your accommodation is an art that you will improve little by little.
For all the ramifications that reviews have for revenue management, you can rely on Smartpricing and let the software take care of it!
---