Why apply revenue management to a small hotel? (+ case study)
In this article we talk about revenue management for small hotels and why it is an essential aspect even if you only manage a few rooms.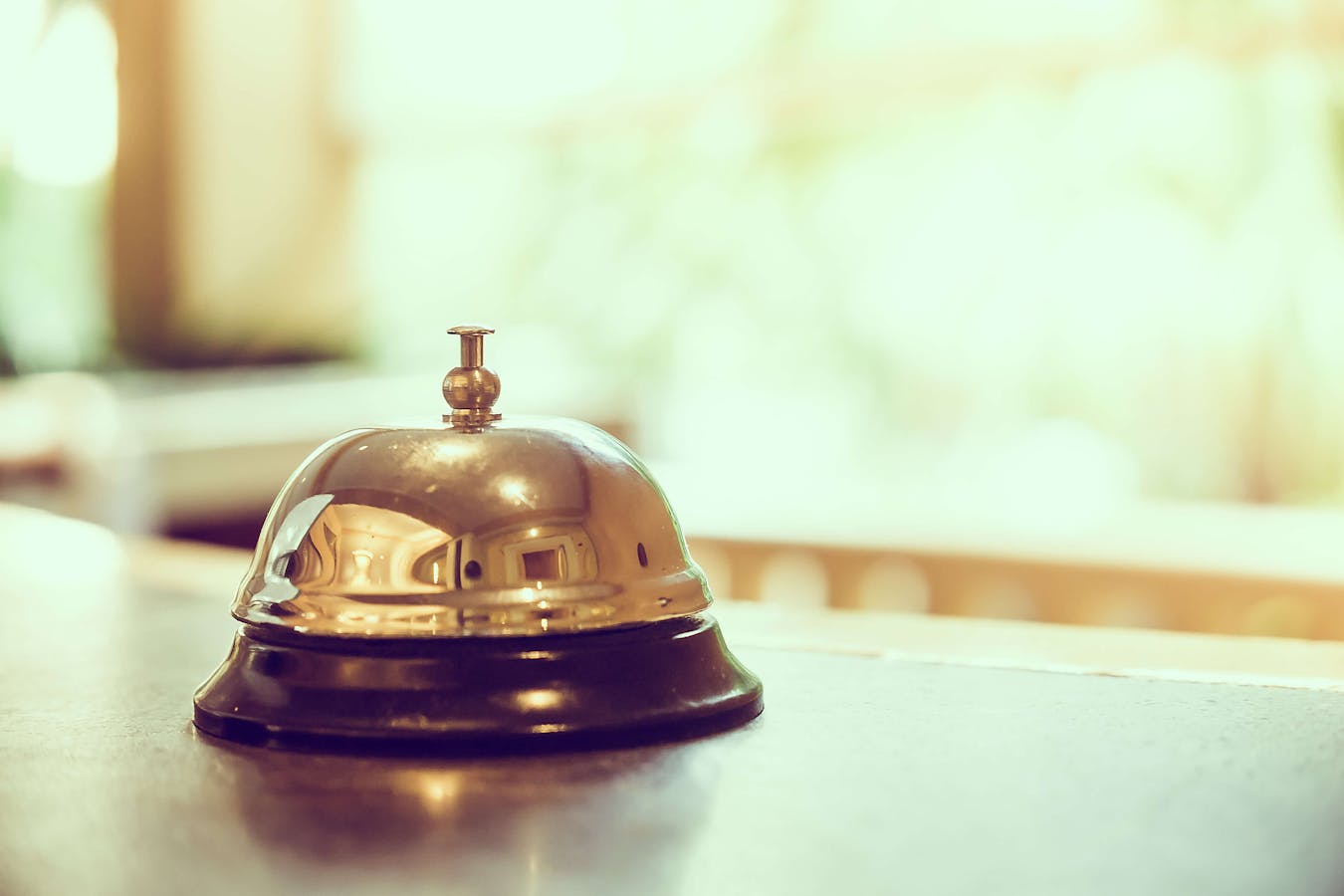 If you are the owner of a small hotel you might think that revenue management is something too complex that only large hotel chains can handle.
However, the reality is different and we want to show you why in the next few lines.
We are also going to talk about a small establishment that has greatly increased its revenue thanks to revenue management, so get comfortable and let's get started!
4 reasons why you should seriously think about revenue management
If you're approaching revenue management for the first time, you could easily be scared off by the many technicalities you will be confronted with: RevPAR, ADR, market trend analysis, rack rate, etc. (if you want to better understand the basic concepts, you can also start with our quick guide to revenue management for hotels and accommodations).
Your mind fills with complex concepts you've never heard of, and you immediately throw in the towel, thinking about all the other pressing things you need to take care of.
It's understandable: your job involves so many tasks, and you can't devote your day to aspects that only large hotels can handle.
However, even in your small business, it is essential to devote a small amount of time to revenue management.
There are 4 good reasons why you should do this, outlined below.
1 - Doing revenue management is easier than it looks
If you look at how the big hotel chains do revenue management, it's normal to think that it's something unattainable for you.
They have dozens of employees dedicated to this task all day long, while you only have yourself, your computer, and a few staff to share the management of the entire facility with.
Compared to a large hotel, however, you have fewer rooms to sell, fewer locations to control, fewer employees to manage, and fewer tourists to book.
In many ways, doing revenue management is much easier for you compared to how it is done at a large chain.
But be warned.
We are not trying to tell you that it is easy; we would be kidding you if we did.
We are telling you, however, that compared to a large hotel, revenue management in a small establishment involves less complexity, less time to spend on it, and less cost.
With revenue management software, you can manage your accommodation's pricing with just a few minutes a day and working independently.
In addition, the cost of revenue management software is significantly less than that of a professional revenue manager and brings results that far exceed the investment undertaken.
2 - Revenue management allows you to act quickly in times of trouble
Your room rates are the first element you need to act on in times of crisis.
If you should have a sudden drop in bookings, you can immediately lower your prices and try to make your rooms more attractive.
Of course, very often this move is not the ultimate solution to problems.
You may be facing underlying critical issues that need more radical, long-term action (such as a new marketing strategy or a review of internal procedures).
However, revenue management allows you to take immediate action and limit, if not eliminate, any losses.
In some cases, it can even bring better results than pre-crisis!
That's what happened to many accommodations that relied on Smartpricing during the Covid pandemic in 2020, including the one we'll show you in a moment.
3 - Revenues management helps you avoid making major mistakes
For an owner of a small hotel, rooms are of paramount importance.P
For large hotel chains, the same applies, but a single room has less weight on revenue for them.
Think about it: a room in a 10-room hotel affects a lot more than a room at the same price in a 300-room hotel.
At the same time, setting the wrong price for a room has worse consequences if you do it in your small hotel than in a large facility.
You have much more to lose than they do!
Again, revenue management can come to your aid and prevent you from making serious mistakes in setting the price of your rooms.
Case in point.
Many hoteliers who have just started their business, or just made major investments, tend to set an excessively high price for their rooms in order to quickly recoup the money spent.
They often end up setting a rate too high for the demand at that time and fail to get bookings.
Instead, by working on revenue wisely they would have a lot of information at their disposal: they would be able to set prices that are attractive to customers and, at the same time, profitable for them.
4 - Revenue management makes you more money
The last point in favor of revenue management is the most significant one: doing revenue helps you increase turnover and profits.
If you're still relying on the old seasonal list to set your room rates, now is a good time to shred it.
Setting prices too far in advance, solely based on low or high season, is not only outdated, it's also detrimental to your business.
If there is a sudden event in your destination that causes demand for rooms to skyrocket, it makes no sense to keep the price set at the beginning.
People are willing to spend more to sleep at your place, and you can raise your usual rates (in some cases they can go up to 5 times higher!).
This way you increase your income from a single reservation and grow your business.
To do this, you need to continuously monitor supply and demand, and only revenue management can provide you this overview.
Case Study: small lodging business achieves +102% in revenue compared to the year before
If you're still not convinced of the importance of revenue management for small facilities, you might want to take a look at the results of the Corte San Carlo residence.
Corte San Carlo is a luxury property a stone's throw from Lake Garda, consisting of 11 apartments within an elegant 19th-century villa.
As you can imagine, such a small residence does not have a dedicated revenue staff, nor high budgets to rely on a revenue manager.
The best solution for this activity is to invest in a revenue management system that will help managers work on prices and not take too much time away from other relevant activities.
The management decided to do so and relies on Smartpricing − a fully automated software that adjusts room rates for them.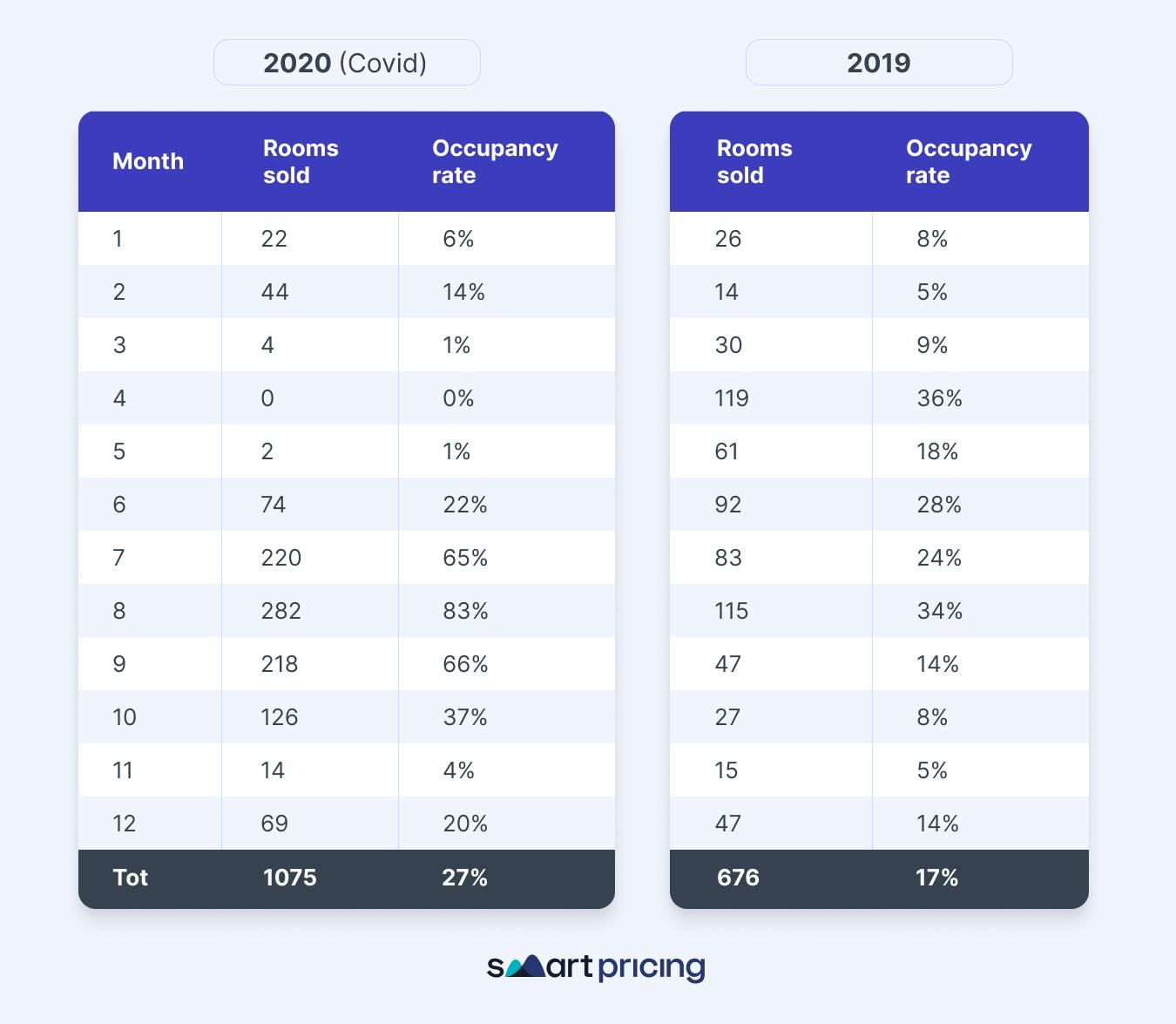 Although this transition takes place in the spring of 2020, that is, at the height of the Covid pandemic, the results Corte San Carlo achieves in the months that follow are impressive:
+102% increase in turnover in the summer months compared to 2019 compared to 2019
+43% increase in occupancy rate in the summer months
increase in average RevPAR (turnover generated from each individual room) for the summer months by +€40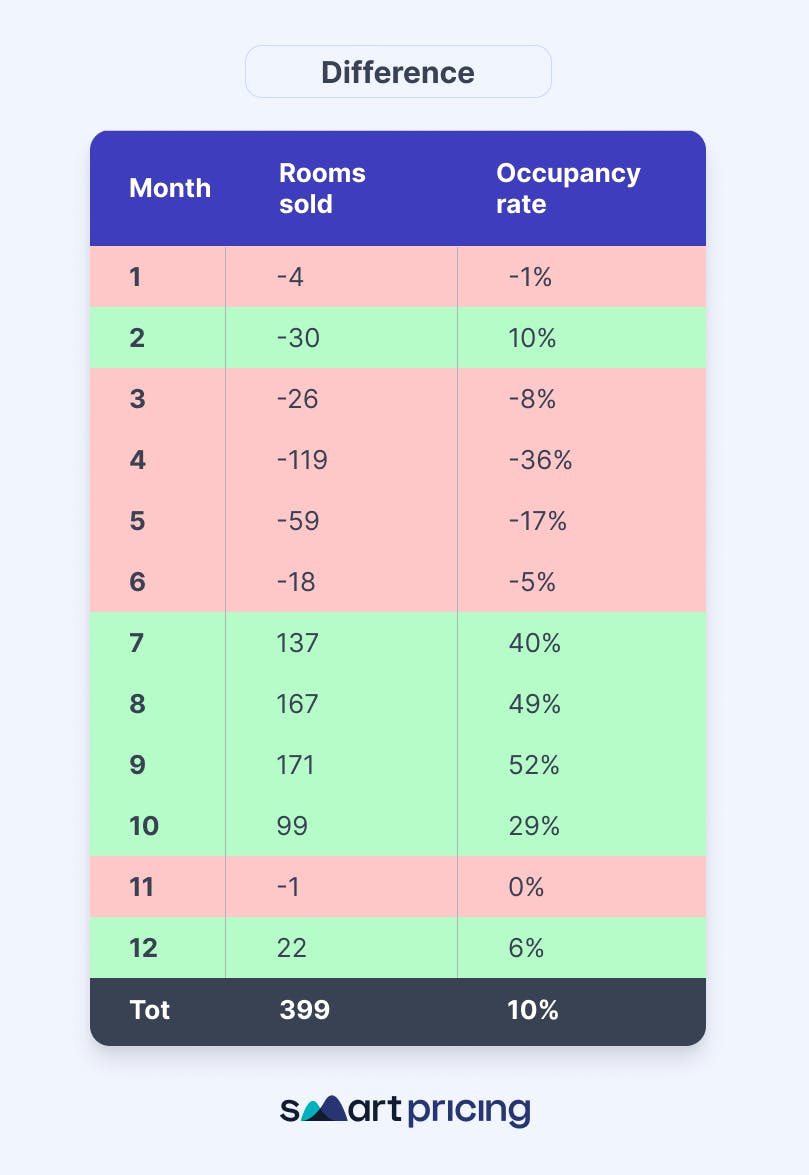 All this was possible thanks to the software algorithm that detected a starting price that was too high and lowered it according to the need of the moment.
The average rate of each room was lowered, but the number of rooms sold and the overall turnover in the summer period increased.
---
Would you like your hotel to achieve similar results?
Revenue management is the way to go, and with Smartpricing it becomes even easier!
The software analyzes a huge amount of data and sets rates in a simple and fully automated way.
Try it and watch your revenue increase!
---