How to master cleaning your rooms (guide + checklist)
In this article, we explain how to best organize and manage the cleaning of hotel or B&B rooms.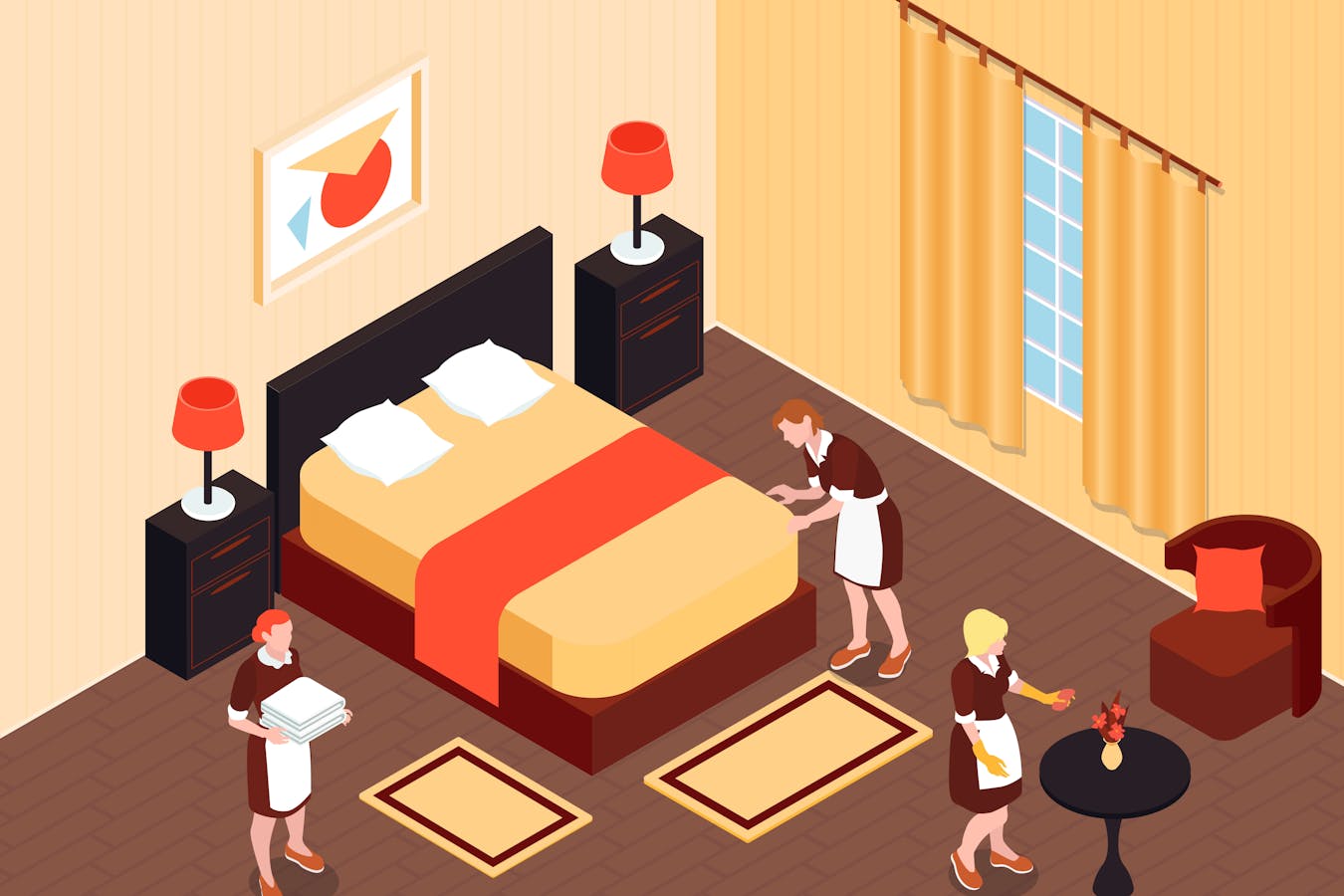 Room cleanliness is an indispensable factor in a hotel or vacation rental: a shining room denotes quality, efficiency and care for guests.
90% of travelers say they will not book at a hotel or B&B that is reviewed as "dirty" by those who have stayed there. Among the various categories of online reviews, one of the most impactful for users looking for an establishment to stay in is precisely the one dedicated to room cleanliness.
With the outbreak of the Covid pandemic, moreover, it has become necessary to intensify room cleaning and add the germ disinfection phase.
In the next few lines you will find the cleaning procedures that we successfully apply in vacation homes between Italy, the USA and the UK.
We also share an indispensable checklist for performing proficient cleanings.
Let's get started!
Want to be more efficient in your cleaning? Plan for it!
Planning is the first step to cleaning rooms efficiently. 
You first need to understand that you can perform different types of cleaning at different rates, depending on the type of facility to be accommodated. Indeed, a hotel with many rooms located in a single building has different procedures than a single apartment or a series of apartments scattered around the city. 
The larger an establishment is, the more complex the cleaning phase will be. Automatically, greater complexity of work leads to the need for planning that is as detailed as possible. 
By organizing the cleaning process, you will know in advance how to proceed step by step, how to limit waste, and how to avoid losing time. 
To be able to deliver effective and efficient room cleaning, it will be necessary to plan the various actions to be performed and how to carry them out.
The basic steps are:
Figure out which rooms or apartments should be cleaned and which should not: each time the cleaning shift begins, the front desk (or whoever handles reservations) should provide a list of rooms to be cleaned based on when guests are leaving or staying. If they are not already empty, rooms are either "departing" or "staying." Departing rooms are those from which the guest has checked out and need deep cleaning to accommodate subsequent guests. Staying rooms, on the other hand, are those where guests are still staying and can be cleaned more "lightly." Based on this information, the cleaning team prepares for the shift by setting up the cart. 

Put all the items you will need in the dedicated room cleaning cart in order to avoid going back to get them and slow down the procedure. The cart usually consists of: detergents and cleaning utensils, clean linens (sheets and pillow covers), towels and other bathroom accessories, garbage bag, and bag for dirty linens. When the cleaning team has received the list of rooms to be cleaned and has prepared the cart, they can start their shift. 

Plan the disinfection phase: after the outbreak of the Covid pandemic, it has become even more important and relevant to disinfect the rooms of a hotel or B&B. Classical room cleaning consists of removing dirt and germs, while disinfection acts in depth and directly kills germs and bacteria. 

Division of labor: cleaners will take longer to treat each room, as they will have to disinfect as well as clean. Therefore, it is advisable to organize the work in pairs. Indeed, the division of tasks makes the work lighter and more bearable on a psychological level, too. An additional advantage of dividing the tasks is that it reduces the cleaning time for each individual room and improves attention to detail. An extra pair of eyes sees what others often fail to notice. Since organizing shifts in pairs in our apartments, the cleaning score on Booking.com has increased by 1.2 points, and we have reduced the average cleaning time per apartment by more than 10%! 
How to carry out room cleaning without forgetting anything
When the cleaners arrive at the floors or apartments, they can start cleaning by following the list at the reception desk. 
It is necessary to start with the most urgent rooms, that is, those where guests will arrive first, and then continue with the others. 
Before entering a room, it is a good idea to knock to make sure that the guest is not present inside. 
If there is no response, you may enter, still announcing your entry in case the guest has not heard you for some reason. 
It is understood that in rooms where a "do not disturb" tag is posted, cleaning will be postponed until another time. 
Once inside the room to be cleaned, the first thing to do is to wash your hands thoroughly and put on disposable gloves. Next, proceed to open all windows and turn on the lights. It is important to keep the windows open during cleaning to ventilate and promote air recirculation. Turning on the lights, on the other hand, allows you to detect any defective bulbs and notify them for replacement when the job is done. 
If the one you are going to clean is a "departing" room or apartment, you need to check that the guest has not forgotten or broken anything. 
At this point you can move on to the actual cleaning by following a precise checklist, that is, a list of actions to be performed in each room. It is a useful tool to get your mind right on what and how many tasks have been done, so that you can be precise about your schedule and timetable.
You can download the free room cleaning checklist we use in apartments, adapting it to your needs.
It is a list of actions to be taken in each room: each time you perform an action, you tick the respective box.
It's used to make sure that everything gets cleaned up without any forgetfulness and without wasting time making up your mind on what's missing.
Which areas should be cleaned in each room of your accommodation
Let us now look in detail at what parts need to be cleaned room by room.
Bathroom
When cleaning the bathroom of a hotel room or B&B, it is necessary, initially, to remove dirty laundry and waste from the baskets, replacing the bags.
The next step is to move on to a thorough cleaning of the bathroom fixtures, sink, faucets, and shower stall. Next comes the cleaning of the floors and walls, making sure to use the right cleaners (i.e., those appropriate for the type of surface).
Finally, comes the time to place clean towels, at least 2 rolls of toilet paper, and, if the guest has checked out, new bathroom kits (if the guest returns, you can leave the ones already opened). 
It is important to take extra care in cleaning the bathroom because it is the room that guests inspect the most, along with the bed. 
Bathroom cleaning checklist:
sinks
toilets
faucet mixers
showers and tubs
shower curtains and panels
shampoo, conditioner, bubble bath and soap dispensers
toilet paper
towels
hair dryers
walls and floor
Bedroom
As with the bathroom, cleaning the bedroom begins with removing soiled linens. Next comes the cleaning of the furniture, surfaces, lamps, television and refrigerator. Clean sheets and pillow covers are then placed, making sure they are well ironed. 
The bedspread should be checked for stains and, if necessary, be replaced. 
If the guest is leaving, the windows, walls and doors should also be cleaned. The floor should be treated with the right detergents. Here it is necessary that in addition to being suitable for the surfaces they do not leave too intense or unpleasant odors. 
Next, the mini-bar is replenished (leaving the drinks already opened if the guest is to return), the information sheets are arranged, and it is ensured that all equipment is working properly.
Bedroom cleaning checklist:
door knobs
light switches
remote controls
tables
fans and lamps with chain switches
window sills and window handles
thermostats
keys
coat racks and luggage racks
nightstands
minibars
television
bedspread
sheets and pillow covers
information sheets and courtesy kit
floors
doors, walls and windows
Other rooms
In case there are other rooms to be cleaned, such as the kitchen, proceed in the same way and manner as for bedrooms and bathrooms.
Checklist for cleaning the kitchen and other rooms:
sinks
cabinet handles and knobs
oven, toaster, pressure cooker, coffee maker and other appliances
oil jars, pepper pots, salt shakers, containers and frequently used spice packs
tableware (dishwasher safe)
ceramic salad bowls, plastic tableware and other cutlery that cannot be cleaned in the dishwasher
tables and chairs
Other aspects to consider in order to accomplish professional cleaning
To clean your hospitality facility in a truly efficient and effective manner, there are additional aspects you need to take care of.
Train staff
There is no point in having a super-detailed checklist if the staff does not follow it. 
In order to have efficient and cooperative cleaners, it is essential to assess them properly at the interview stage, then train them in the initial period of and keep them updated on any changes or updates. 
In addition to instructing the staff on the procedures to be followed, it is essential to explain to them the importance of certain key procedures and why they are essential. By making staff aware, you more easily ensure that procedures are followed.
Limit workloads
Cleaning a hotel room or apartment is demanding both physically and mentally. 
Pair work and a detailed checklist reduce fatigue and the risk of error, but after a few hours, energy and attention levels drop inevitably. 
Inattention increases and accuracy decreases, with the serious risk of lowering the quality of cleaning and consequently attracting negative guest reviews.
Our advice is to maintain shifts of a maximum of 6 hours per day for a maximum of 5 out of 7 days, managing staff shifts to cover the entire week.
Conduct end-of-shift checks
For the reasons we just mentioned, it is important that you or one of your staff members perform checks at the end of room cleaning shifts. 
You need to be especially careful, as staff may see the check as a sign of mistrust of you. Communication in this case is key.
Explain to them that mistakes can happen and that an outside eye checking is needed to prevent a small carelessness from affecting the guests' stay. By talking to the cleaners, holding them accountable for their role, they will feel valued and will not see a check from you as a lack of trust.
In order not to take up too much time and to further empower the staff, we suggest you conduct spot checks.
Listen and talk to your staff
Your staff is "in the field" every day and knows better than anyone how to perform quality cleaning. In addition to telling them the procedures and directions they need to follow, listen carefully to their feedback and suggestions for improving the work.
If you establish a relationship of mutual listening and improvement right away, you will be able to rely on a loyal and top-notch cleaning team!
If you are able to organize your accommodation cleaning carefully, you will not only have shiny rooms and apartments, but also reduce your costs. In fact, effective cleaning organization means less waste, less wasted time, and fewer hours of work by your staff.
---
One more way to optimize your accommodation costs and increase revenue is to try Smartpricing. 
Smartpricing is the first fully automated revenue management software out of Italy. The system monitors a huge amount of data and manages room rates for you, resulting in more profitable prices for you.
It also saves you valuable time that you can devote to other tasks, such as improving housekeeping shifts.
Customers who use Smartpricing historically get an increase in their revenue, up to 30 percent on average!
---