Revenue management: the complete guide
In this guide you will find everything, literally everything, you need to know about revenue management for lodging businesses.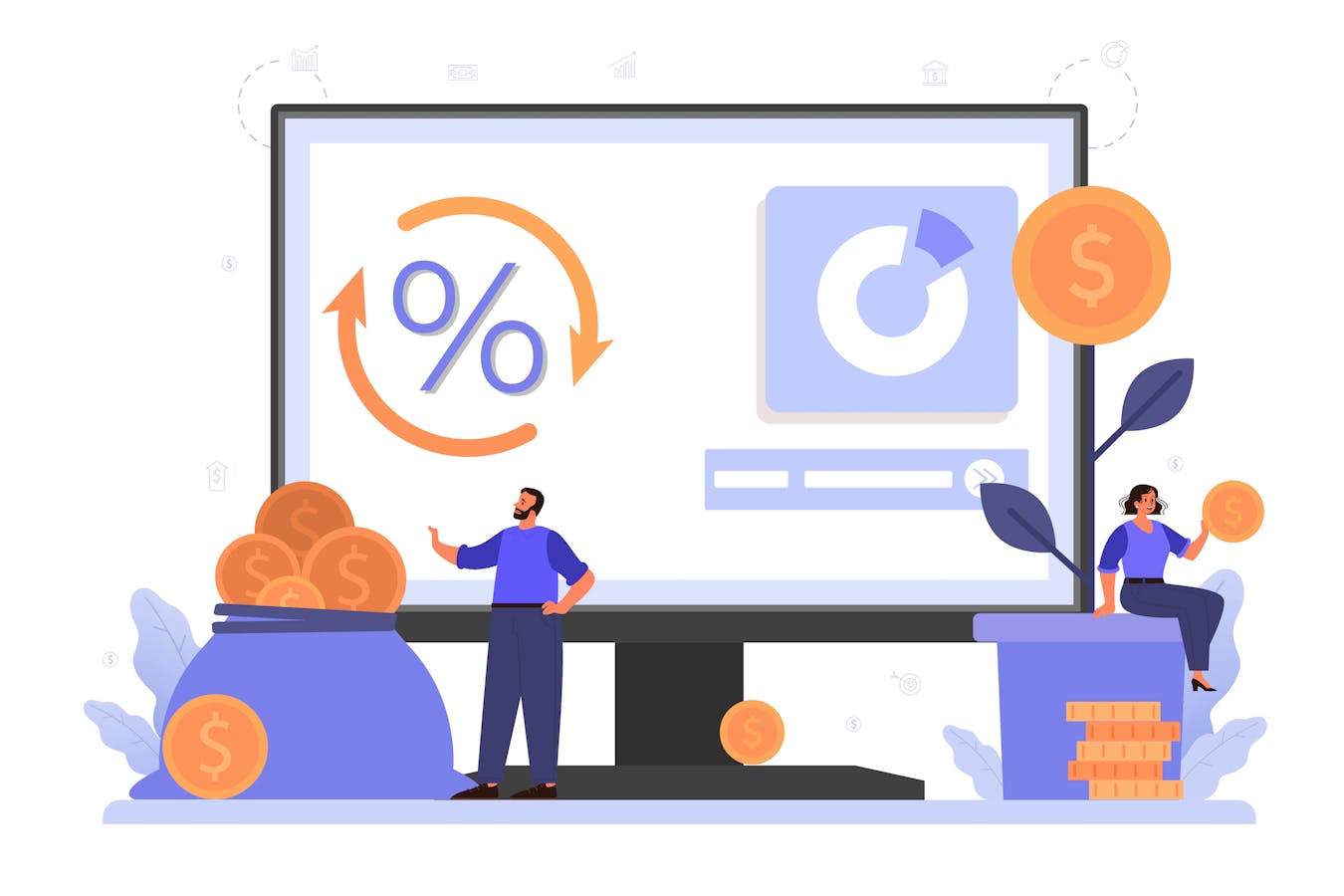 If you want to grow your business in the 21st century, the fixed list has become an obsolete tool.
Instead, revenue management has become an indispensable activity that you, like the big hotel chains, can learn to master.
But what exactly is revenue management? Why is it so important? What tools do you need to apply it?
In the following lines, you will find answers to each of these questions.
What is revenue management
Revenue management is a discipline that seeks to maximize hotel revenues. 
Revenue management consists of a series of activities with the aim of predicting the behavior of travelers and, through the management of the distribution of rooms on different channels and sales prices, optimizing the revenues generated.
From this brief definition you can understand, first of all, what revenue management is not: it is not just changing prices, it is not just happening online, it is not just opening or closing portals, it is not just lowering rates to occupy as many rooms as possible.
"Okay, but it's still not completely clear to me. Can you elaborate on that?" 
Let's try to break down the definition from earlier and analyze it step by step.
Revenue management is a series of activities: these activities are carried out in response to certain stimuli and in a certain sequence according to the hotel's needs.
With the aim of predicting travelers' behavior: it will be crucial to know your guests and their needs in order to be able to get the most out of our revenue strategy.
By managing the distribution of rooms across channels: one of the fundamental tools of revenue management is the allocation of rooms to different channels and sales segments.
And selling prices: the other fundamental tool available in revenue management is composed of the prices at which rooms are sold on different distribution channels.
Optimize revenue generated: the ultimate goal is to maximize the turnover generated by your rooms.
Why revenue management is important
Hospitality facilities, just as for example airlines or restaurants, have characteristics that differentiate them from both production companies (factories and artisans) and other service companies (professionals, consultants, financial services).
These differences afford facilities some opportunities to optimize sales while taking away others.
Hotels, for example, cannot increase their production (i.e., the number of rooms) in anticipation of peak demand, as a factory would, nor can they work longer hours to increase their sales, as a professional would.
On the other hand, they can adjust their prices according to demand pressure and can show them to different customer segments according to market forecasts.
In practice, to be able to make the most of their assets and maximize revenue, accommodations must rely on revenue management (just as an industry plans its production to achieve the same goal).
What you can achieve with revenue management
Revenue management has three main goals.
Maximize revenue: it allows you to achieve the maximum revenue levels based on the type of product/service you are selling and the marketing strategy you are implementing.
Optimize operations: working with revenue management strategies allows you to accurately predict market and tourism demand trends by allowing you to plan your facility's operations (how much staff to hire, what hours to have them work, opening/closing areas of the hotel to save energy, etc.).
Provide strategic support: when accommodations create their long-term strategy and decide to serve a specific market, they create products and services with this in mind and defines what results to achieve. Revenue management becomes a foundational element in this process, both in long-term forecasting and in adjustment.
Revenue management software and tools
There are many ways to set up a revenue management system for your facility, from the simplest to the most complex.
The simplest system is one that many hoteliers have applied for years, and many still apply: the seasonal rate list. Applying different rates by season is already a first level of revenue management because it attempts to adjust prices to different levels of demand that occur throughout the year. However, its lack of flexibility makes it difficult to maximize revenue.
A more advanced way is to carry out analysis of statistical data and competitor rates with an excel sheet and define pricing rules (e.g., "if 15 days before the date of stay I have 80% occupancy I apply a price of 90€"). The issue in this case is that, being a "hand-made" analysis, the amount of data is very small and involves a significant investment of time.
Another solution is to rely on a revenue manager or revenue management company outside the hotel. In this case, you have high expertise at your disposal, but you do not have someone working 100% of their time for you. In addition, the experience and skills that are gained during this activity remain outside your facility (in case you want to change revenue managers or decide to manage revenue internally, you would start almost from scratch).
You could then decide to have an in-house revenue manager. This way you would get the advantage of a person who works exclusively for your facility and generates know-how internally. Obviously, this solution has higher costs than the previous ones.
Alternatively, or even in conjunction with the previous solution, you could rely on revenue management software that allows you to analyze very large amounts of data and react to it, thus maximizing your sales results.
Using a software gives you 3 main advantages.
Task automation: the software allows you to delegate tasks to the computer and thus leave a human revenue manager time to devote to activities with greater added value, such as the strategic part of revenue management or the day-to-day management of the accommodation. Think, for example, of how quickly a channel manager allows us to change rates on all portals compared to doing it by hand.
More data to work with: each software provides large data sets and statistics that allow for more accurate predictions of market trends. For example, reputation management software can provide us with data on reputation trends on different OTAs and metasearch engines (such as Tripadvisor or Kayak) that we would have difficulty collecting without it.
Better results: the computational power of software means that the results provided are more accurate and valuable than those we would have obtained without it. Just think of the accuracy that a good PMS can provide us relative to the booking data of different market segments.
But which are the software solutions involved in revenue management?
Let's look at them.
RMS - Revenue Management System
Applying prices and changing availability among different distribution channels, an RMS is the "operating arm" of revenue management. Revenue management systems are extremely varied and different from each other, despite the fact that they all serve the same purpose. The level of automation and depth varies from software that merely applies rules preset by hoteliers or human revenue managers, thus simple automation, to software that has its own internal optimization algorithms. The latter, like Smartpricing, need only the raw data, which they then analyze and process to apply rate and distribution tactics to maximize sales.
PMS - Property Management System
The PMS is the classic property management system from which you check-in, check-out, charge extra expenses, issue tax documents, etc. From a revenue management perspective, the PMS is intended to provide at least the essential information to develop a strategy, such as occupancy rate, RevPAR, average price, booking pace and segmentation data. More advanced PMSs provide very in-depth statistics and allow RMSs to define highly sophisticated strategies as well.
Channel Manager
The channel manager is the software that makes it possible to change rates and availability on all connected distribution channels with a single action. Today, modern channel managers go beyond simply updating rates and available rooms (although this remains their main purpose) by integrating the ability to manage each channel differently and also update other factors, ( e.g. closed-to-arrival, minimum-length-of-stay, etc.). In revenue management, they aim to update prices on different portals according to the pricing tactics decided upstream.
These distinct pricing tactics between different intermediaries have been possible since the rate parity clause was made illegal a few years ago now.
Booking Engine
This is the software that allows customers visiting your website to book a room directly without having to call, e-mail or text you. Booking engines are critical to competing with OTAs because they allow individual accommodations to provide, at least in part, an equal level of service.
Reputation Manager
Reputation management software performs two main activities:
they allow you to monitor the progress of your reputation both quantitatively (number of "points" on Tripadvisor, rating on Booking.com, etc.) and qualitatively (written reviews)
they help management manage, analyze and respond to guest reviews
RMs provide accurate information about guests' perception of the value of the facility and consequently also what prices they will be willing to accept before this perception begins to decline (the famous value-for-money ratio).
For this reason, RMs are also very important for revenue management.
Rate Shopper
Rate shoppers allow a hotel to analyze the rate trends of competitors and, often, in case of rate "shocks" from them, to send notifications to management.
RSs are extremely important for the proper application of revenue management precisely because they allow, if necessary, to update prices or otherwise get a better sense of market trends.
Benchmarking Software
Benchmarking software collects data from different establishments in the same location and shares it, anonymously, with other establishments. The goal is to provide each participating property with general market data that allows it to assess whether its performance is in line with demand or not.
For a revenue management strategy, this is invaluable data because it allows you to get a true sense of market pressure and update your tactics accordingly.
The 4 phases of revenue management
Revenue management is an ongoing, circular activity. This means that it continues over time without an end, but still consists of consecutive phases that follow one after the other.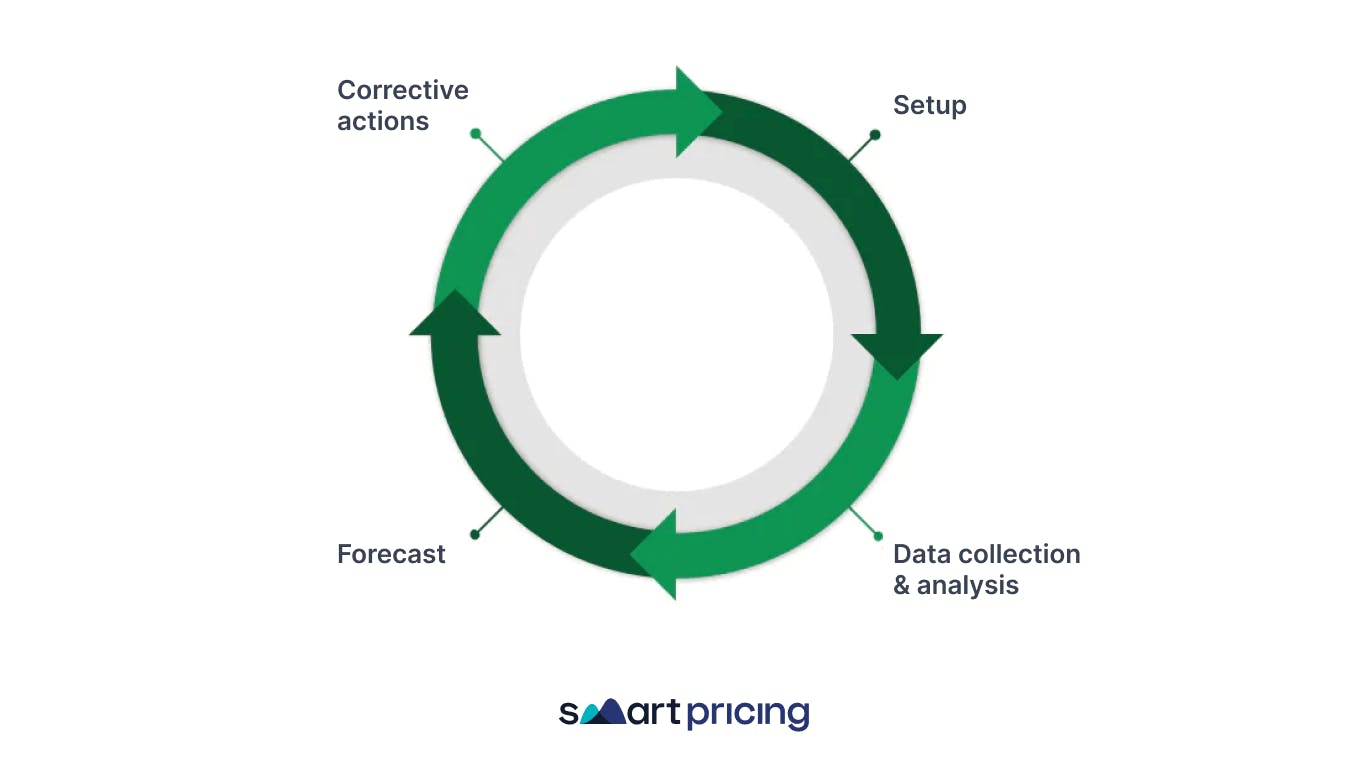 The 4 phases of revenue management are:
setup phase
data collection and analysis phase
forecast
corrective actions
Setup Phase
Before starting with the operational activities of revenue management, it is necessary to define the rules and field of play. 
What do we mean by this? 
During the setup phase, we define the customer segments we want to reach and, consequently, determine our competitors and the products and services we are going to offer.
There are many, more or less structured, ways to define market segments, competitors and products and services. The important thing is to focus on conducting this phase in the best possible way because it fundamentally determines your hotel's economic results.
Remember that revenue management does not generate demand from travelers, but merely captures it. What generates it depends not only on the destination, but also on the alignment between customer needs and the facility's products and services that you define at this stage.
Data Collections and Analysis Phase
We need to predict customer behavior. To do this, we need data. This data is collected by the various software solutions and is provided to us in the form of reports, analysis, and Excel sheets, or is sent directly to the RMS for processing.
What data do we need to collect? Certainly basic statistics such as room output (sometimes in PMSs you also find them as room revenue or room turnover) and rooms occupied. To these we will add a whole range of other information that is needed for our analysis: booking pace, length of stay, event results, spin-offs, and anything else we find useful.
Once we have collected the data, it is time to process it. We then begin to derive the main indicators from production data and rooms occupied: average room rate, occupancy rate, RevPAR. To these we can add bed occupancy, treatment statistics, event KPIs, booking pace, and, if we want to be really smart, we will divide this by individual market segments.
If some of these terms are unintelligible to you, find a brief glossary of definitions at the bottom of the article (or you can check out the more comprehensive revenue management glossary).
With all of this data in hand, we get a history with its full timeline. We will then get for each day of the year the occupancy, price, spin-off, yield, treatments and other important information broken down by market segments.
We can now move on to the forecast phase.
Fase di Forecast
In the forecast phase, the goal is to predict the future performance of the business and develop the revenue strategy. We start with the past statistics, hence the timeline we have just worked out, and proceed through 2 steps: alignment and update.
Alignment 
We cannot take the data from April 4 and apply it to April 4 next year, but we will have to realign the two calendars so that the data from Monday, April 4, 2022 are associated with Monday, April 3, 2023.
This is because the day of the week is a very important element of demand generation. It is a foregone conclusion to say that for a leisure hotel on Fridays and Saturdays in April we would expect higher demand pressure than on other days of the week. However, if we only look at the dates and numbers we might forget this, which is why it becomes crucial to proceed with the alignment.
However, the process we have just seen does not apply to events: 12/31 should always be aligned with the last day of the year of the previous year, Easter always with Easter of the year before, a trade show with the corresponding fair. Any internal events (meetings, conferences) should also be aligned with the same meetings and conferences if they are repeated from year to year.
This way, we have next year's calendar totally aligned with what happened this year.
Update
Updates allows us to modify the calendar according to what we believe will happen next year.
We will therefore have to come up with a forecast regarding how much the following elements will impact demand.
Events: new fairs, internal events, congresses planned in the city, but also their cancellation or relocation.
Marketing: how much will marketing activities aimed at regular customers generate and, more importantly, how much will those aimed at those who are not yet customers.
Change of products/services/segments: what will be the impact of the renovation of the 3rd floor? What about having introduced half-board? And having started to target toward the family sub-segment of grandparents traveling with grandchildren?
Change of distribution operators: if we have decided to give up a tour operator, obviously we also give up the revenues it used to bring us. We will have to analyze whether those rooms will still be sold, at what price and with what features. Same thing, conversely, if we decide to sign a contract with a new tour operator.
Economic situation: the economy of our country and that of the countries from which guests come impacts the demand for our facility, so we will have to take that into account.
At this point we should have a detailed calendar with key indicators on which we'll base our decisions about what prices to sell at, what channels to distribute them on, what rate fences to apply, and what offers and packages to promote at any time of the year depending on the market. Basically, we are going to work out a sales strategy.
Corrective actions
This phase is the only one that takes place during daily operations at the facility: day by day we collect data, compare it with what we expected during the forecast and analyze the differences.
When the differences are substantial, it is necessary to take action and correct the trend (remember that revenue does not increase demand but manages it, unlike marketing, which instead is able to generate it, or at least turn it toward our facility).
For example, we might raise or lower prices, increase, reduce or close availability on different channels, turn on or off rate fences, put on or take off offers and packages from the sale. It depends on what we consider necessary at that specific time.
That way, with proper forecasting and corrective actions that react quickly and effectively to market movements, we will be able to maximize revenue. Which is precisely what revenue management should accomplish.
What is the difference between yield management and revenue management
In the hospitality industry, the terms yield management and revenue management are often used synonymously. But there is a subtle difference between the two.
Revenue management is the approach we described: collecting and processing data, determining KPI, setting a forecast, and operational and corrective activities.
The whole aspect of evaluating market segments and whether to accept certain segments at a certain time or day of the year, on the other hand, is yield management. Basically, yield management seeks to maximize revenue by managing inventory and allocating it to different market segments.
Yield management comes from the airline industry where, depending on the distribution and seasonality of market segments, it defines the amount of seats in first class, business class, and economy for each aircraft.
Mini Glossary
Below you will find definitions of some commonly used terms in revenue management that we have used in this article. To learn about others, check out our revenue management glossary.
ARR: Average Room Rate. It is obtained by dividing room revenue by the number of rooms sold. It indicates the price at which, on average, we sold a room in a certain period.
Spin-off: indicates the amount each customer spends on everything extra room.
RevPAR: Revenue Per Available Room. It is obtained in two ways: by dividing room revenue by available rooms (NOT by rooms sold) or by multiplying the average room price (ARR) by the occupancy rate. This is the most widely used indicator in revenue management because it summarizes, in one number, the average sales price and occupancy rate, thus providing a more realistic window on the hotel's performance.
Booking Pace: It indicates how quickly reservations for a given date are coming in. It is extremely important to compare the booking pace we expected from forecast with the actual market pace in order to be able to take corrective action in a timely manner.
Rate Fences: These are all those "blocks" that are set up to prevent customers from a certain segment from booking rooms at rates reserved for other segments. For example, to prevent customers who are not entitled to do so from booking at business rates, we impose signing a convention prior to booking. In this case, the signing of the convention is a rate fence.
---
Don't you wish it were simpler?
Revenue management is essential, but it can become very difficult and stressful if you don't know how to do it properly.
Smartpricing helps you in managing revenue and finding the right prices at the right time, without you having to lift a finger.
Find out now what Smartpricing can do for your accommodation, request a demo with one of our consultants!
---