The KPIs you need to keep an eye on if you want to maximize your hotel's revenue
Not sure what we're talking about? Fear not, we explain it all in this article.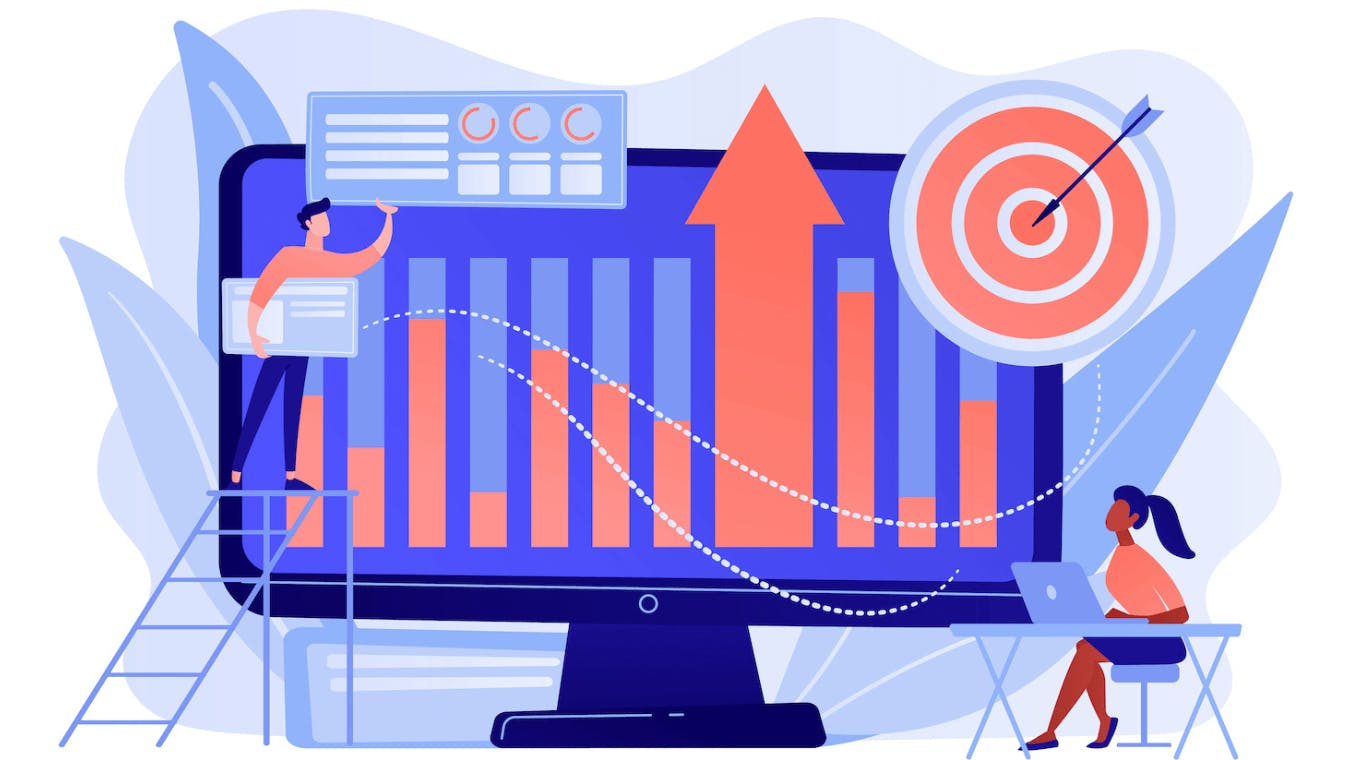 Identifying the right KPIs is critical to the management and success of a hotel (as well as its revenue).
In this article, we'll show you what KPIs are, why they are important, and which are the main ones you really can't miss.
Let's get started!
What exactly is a KPI?
KPIs, short for Key Performance Indicators, are metrics used to evaluate the performance of a company, product or process. 
The purpose of KPIs is to encapsulate the evaluation of something complex in a single number or judgment.
If you think about it, KPIs are a bit like a high school graduation grade that expresses the performance of a course of study in a single number. 
In management, KPIs are used to compare the performance of individual areas of the company against each other. 
The ultimate goal is to be able to make more informed decisions about where to invest resources to achieve greater returns.
Why is it important to know your hotel's KPIs?
An accommodation establishment is effectively a business that sells "overnight stays," as well as other complementary products and services, often divided into categories (Rooms, F&B etc.). 
Each of these services and products can be evaluated through specific KPIs.
If you run a hotel or other type of facility, comparing the performance of individual services or different types of rooms is extremely useful. 
In fact, if one of these parameters performs very differently from the others, either positively or negatively, using KPIs will give you the right information to act accordingly.
Moreover, if you manage several facilities, thanks to KPIs you can compare them with each other and decide where to invest more and less.
In essence, KPIs measure the value of what you are doing in the hotel and help you set your growth goals.
What are the main KPIs for a hotel?
Let's look at some of the most widely used and important KPIs in the hospitality industry.
Average Occupancy Rate
Average occupancy, usually represented in percentage form (e.g., 80%), is one of the typical KPIs for a hotel.
It measures the amount of rooms occupied compared to the total number of rooms available in a given time period.
Knowing the occupancy rate is important for an accommodation because having a high number of empty rooms represents a waste and, at the same time, a growthopportunity to be exploited.
Average Daily Rate (ADR)
The Average Daily Rate (ADR) represents the average sales price per single night of an accommodation facility. 
This KPI can include all room types or treatments, or it can be specific to each.
Usually, if you have to do an internal analysis, it is best to use a specific ADR for each room type, treatment and sales channel.
If, on the other hand, you are comparing your hotel with competitors in the area, it might then be wise to rely on the overall ADR.
Read this article if you want to learn more about ADR.
A high ADR value corresponds to higher potential revenues for the same occupancy and costs.
Average Length of Stay (ALOS)
Average Length of Stay (ALOS) is obtained by dividing the total number of occupied nights by the total number of reservations.
For example, if there were 100 reservations in a month for a total of 300 nights booked, the average length of stay is 3 nights.
ALOS is an often underestimated but very interesting KPI because, for the same number of occupied nights, a longer stay corresponds to lower operating costs.
As with ADR, ALOS can be calculated as an overall hotel value or specific to a particular room type, sales channel, treatment.
RevPAR
RevPAR, which stands for Revenue Per Available Room, is one of the most important indices for a hotel because it compares average sales price with occupancy. 
In fact, to calculate the RevPAR, it is necessary to multiply the occupancy rate by the ADR. 
This KPI represents the potential turnover of a hotel regardless of its size and category in a single number, which makes it an ideal index for making comparisons with the market and competitors.
RevPAR, however, also has limitations, especially when used for hotel facilities with a large number of complementary services.
RevPAR, in fact, only takes into account turnover related to stays and, in some cases, can provide a partial view of an accommodation's potential.
Click here to find out how to leverage RevPAR to increase your bottom line.
CostPAR
What RevPAR represents for the "revenue" line item of a hotel, CostPAR (Cost per Available Room) does for the "expense" or cost line item.
You can calculate it by dividing the total cost of the facility by the total number of available rooms. 
The purpose of this KPI is always the same: to represent a comparable value regardless of a facility's size or characteristics.
Unlike RevPAR, the lower the CostPAR value, the better.
If you want to derive CostPAR, but don't know where to start, read our article on how to calculate costs in hotels.
GopPAR
GopPAR stands for Gross Operating Profit per Available Room, or operating (gross) margin per available room. 
It again represents an absolute, comparable value related to the potential marginality of an accommodation facility.
Unlike RevPAR, GopPAR does not measure turnover, but an even more important parameter: margin.
There are several ways to calculate GopPAR, the most common being to calculate total costs for a period (day, week, month) and divide it by the number of available rooms.
By calculating the GopPAR, you will know with great reliability whether your facility is outperforming or underperforming in terms of profit relative to your expectations or the competition.
TRevPAR
All "PAR" indices seen so far represent costs and revenues related to the income from the sale "rooms" alone.
TRevPAR, on the other hand, Total RevPAR, considers the revenues of all hotel departments (Food & Beverage, Wellness Area, etc.).
Similar to TRevPAR you could also derive TCostPAR and TGopPAR, thus getting a really comprehensive set of KPIs to judge the absolute value of your hotel.
Cancellation Rate
Cancellation rate is another underestimated, but very important KPI: it represents the percentage of cancelled reservations compared to those received. 
Usually, the cancellation rate varies according to different stay and reservation periods, room types, and even sales channels. 
The direct booking channel, for example, often has lower cancellation rates than OTAs.
Cancellation rate is a very useful KPI for working out your sales strategy, especially if you use flexible rates or systematically sell more rooms than you have.
Thus, by using the cancellation rate to your advantage, you can gain benefits in terms of occupancy.
---
Of all these KPIs, the most important for making comparisons with other facilities are RevPAR, GopPAR and TRevPAR.
From a revenue management perspective in your hotel, you should instead put ADR, occupancy rate and RevPAR first.
Do you think analyzing all these KPIs by hand is a lot of work?
We think so too, which is why Smartpricing exists!
Smartpricing is the revenue management software that helps you analyze your hotel's KPIs and find the right price at the right time. 
Find out what Smartpricing can do for your accommodation!
---